Rae Morris, George the Poet and SOAK are among the up and coming acts to feature on the BBC's Sound of 2015 longlist.
Chosen by around 140 music industry experts, the annual award highlights promising new talent for the coming year and will be announced in January.
Sam Smith won last year's prize after featuring as a vocalist on Naughty Boy's chart-topping single "La La La". Other past winners have included Adele, Ellie Goulding, Michael Kiwanuka.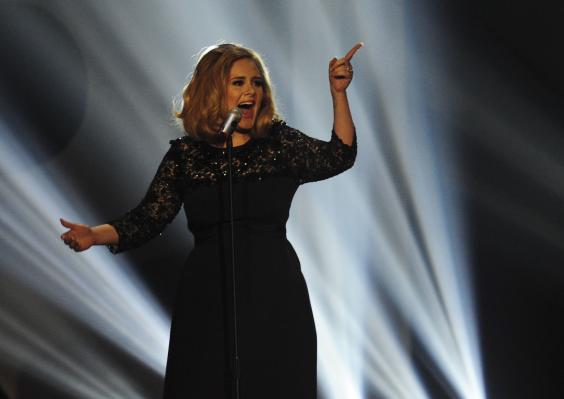 The 2015 list features a diverse range of acts, including indie punk band Slaves; 23-year-old singer, producer, remixer and video editor Shura; electropop trio Years & Years and folk pop singer James Bay.
Sunset Sons, Wolf Alice, Raury and Kwabs also feature, alongside young South London rapper Stormzy who became an online sensation with his #wickedskengman freestyles before topping the iTunes hip-hop chart with first project Dreamers Disease.
Completing the list of 15 contenders are Lapsley, Novelist and Shamir.
Upcoming Talent: Ones to Watch
Upcoming Talent: Ones to Watch
1/31 Marcelino Sambe, 20

The Royal Ballet's Portuguese-born first artist is already making waves. He's the kind of dancer who draws your eye even in smaller roles. Choreographers Kim Brandstrup and Alastair Marriott created roles for him when he was still in the corps de ballet, showing off his soaring jump and velvety flow of movement. Sambé has an impressive technique, matched with energy and stage presence. He's also a budding choreographer, selected by Youth Dance England and creating works for The Royal Ballet's Draft Works programme. In February, he's scheduled to dance in the virtuoso pas de trois in the Royal Ballet production of Swan Lake.

2/31 Colin Morgan, 28

DSI Stella Gibson had her pick of the police in The Fall, but it was DS Tom Anderson, who caught her eye. That should tell you something about the appeal of Colin Morgan, the actor who played him. Born in Armagh, Northern Ireland, Morgan has a background in theatre that includes Shakespeare at the Globe, but it wasn't until he landed the title role in BBC teatime favourite Merlin that he arrived on television. The Fall represents an intriguing shift towards more mature material and there's more to come in 2015, when Morgan stars alongside William Hurt in Channel 4's new sci-fi series Humans.

Getty Images

3/31 Maisie Williams, 17

Maisie Williams has long excelled as the impish but endlessly defiant Arya Stark in HBO's Game of Thrones but she now looks set to make the transition to the big screen. She was very striking as the teenage rebel/cross-country runner Abbie in Irish comedy-drama Gold and she stars in Carol Morley's eagerly awaited new film, The Falling, about a hysterical fainting fit at an all-girls' school in the late 1960s. She has also been chosen as a Shooting Star at the Berlin Festival, an honour that Daniel Craig and Rachel Weisz likewise enjoyed at the start of their careers.

Getty Images

4/31 Eliza Robertson, 27

At just 27, Eliza Robertson has already distinguished herself as a promising new voice on the literary scene. Wallflowers, her debut collection of short stories is published by Bloomsbury on 15 January. A bestseller in her home country, Canada, the New York Times hailed it as a "captivating" read. Her pre-published career was sprinkled with stardust too: while completing her MA in Prose Fiction at the University of East Anglia, she received the Man Booker Scholarship and the Curtis Brown Award for best writer. This debut collection is international in scope, spanning Pacific beaches, Lisbon cafés and the wilds of Canada.

5/31 Dane Baptiste, 33

The south Londoner was nominated for the Best Newcomer prize at the Foster's Edinburgh Comedy Awards last August – the first black British comedian to make the shortlists. Smart, likeable and utterly at ease on stage, his material hops from his Grenadian roots to his twin sister, from nutmeg to wasps. With appearances on Seann Walsh's Comedy Spectacular and CBBC's The Johnny and Inel Show under his belt, last year he supported Katherine Ryan on tour and is now clearly destined for major television vehicles like Mock the Week and Live at the Apollo. In the meantime, see his award-nominated show Citizen Dane at London's Soho Theatre from 26 January.

6/31 Emma Barnett, 29

This award-winning journalist and broadcaster, who specialises in technology, women's issues and politics, started out on the graveyard shift at LBC. Having shown that the late-night callers were no match for her quick-wittedness, she was swiftly moved into the drive-time slot. Lately, however, Barnett's career has gone up a gear. Last October, she landed a new 5Live show, the news-and-tech-themed 5 Live Hit List, while this year she will be fronting various documentaries including Radio 4's Mindfulness: Panacea or Fad? and a series of Woman's Hour features in which she traces Sylvia Pankhurst's journey around the UK, examining the lives of working women.

Emilie Sandy/BBC

7/31 Jinwoo, 27

Jinnwoo is Leicester-born, Brighton-based Ben Webb, a wyrd-folk singer-songwriter whose debut EP, Your Baby, appeared this summer, more recently followed by the single "I Am, I Am, the World's Oldest Man". These early songs hint at a reclusive, introspective character somewhat at odds with Webb's day-job as a professional photographer (he shot the cover for The Rails' debut album). There's certainly a quiet intensity to Jinnwoo's work that recalls influences as disparate as Sixties folkie Anne Briggs and Elliott Smith. Jinnwoo's debut album, Strangers Bring Me No Light, is scheduled for an autumn 2015 release.

8/31 Laura Jane Matthewson, 24

Laura Jane Matthewson made her professional London debut in the musical Dogfight and left no one who saw her in any doubt that a star was being born. She played Rose, the shy, dowdy waitress who retaliates with combative courage and creativity after the titular misogynistic prank. Matthewson has a radiant gift for combining warm, down-to-earth humour and soaring plaintiveness. Her delivery of Rose's wistfully yearning folk songs was devastatingly beautiful. It wasn't only Jamie Muscato's excellent marine who fell in love with that wry, tender emotional intelligence. Mark my words: this is the start of something big.

Alastair Muir/Rex Features

9/31 Max Hoehn, 25

Max Hoehn has just been announced as the winner of Independent Opera's £300,000 Director Fellowship for 2015, which will propel him into the limelight after four years working behind the operatic scenes in Zurich and Vienna, and at the Grimeborn Festival in east London and Glyndebourne. While still at Oxford, he co-adapted for the stage Bulgakov's epic novel The Master and Margarita. Hoehn also has founded a theatre company called Isle of Noise, which will perform radical new forms of music theatre. His big break should come this autumn when he stages the UK premiere of Simon Vosecek's Biedermann und die Brandstifter at Sadler's Wells.

10/31 Elektra KB 29

Feminism returned in 2014 and we need a new generation of feminist artists to confront inequality afresh. Elektra KB was born in Soviet-era Odessa and moved to Colombia as a child. Now studying for an MFA at Hunter College, New York, her bold and graphic work often uses materials associated with "women's" craft, and considers "the demonisation of women and revolutionary culture since the heretics in the Middle Ages". Her subject matter has included police brutality during the 2012 agrarian workers' strike in Colombia and "Cathara Insurgent Women". Her work is dramatic and exciting. She is one to watch.

11/31 Guilherme and Vitor Menezes, Ballet dancers, 22

The identical twins from Brazil are dancing their first principal roles in the English National Ballet's production of Nutcracker this Christmas. They started ballet training aged eight and then won full scholarships to the ENB school from where they graduated in 2011. How do they deal with the competition? "We always help and correct each other," says Guilherme, who shares a flat with his brother in Fulham. "But even we find it hard to tell the difference if we watch a video of us both performing."

David Sandison

12/31 Henry Patterson, children's writer, 10

Will he become a bestselling author? He has just written the first in a series of children's stories, Pip Gets a Job, which has been snapped up by department store Bentalls in Kingston and is now working on the second instalment. "I want it on all children's bookshelves and as popular as Harry Potter," he says. He has always had an entreprenurial streak - aged four he had a venture selling bags of manure to passing motorists and is now planning to open a book and gift shop, Not Before Tea, in Buckingham.

13/31 Gabby Best, Comedian, 30

The character comedian is gearing up for her debut Edinburgh show, The Marijana Method, in which she plays a health-and-happiness guru. Best has been doing impressions since she was a child but it wasn't until she joined NewsRevue at the Edinburgh Fringe in 2011 that her career took off. "It's terrifying and exciting to finally take a solo show up," says the winner of Funny Women 2012. "I've been gigging with Marijana for a couple of years." Come September, Marijana will star in her own web series. (Interview: Charlotte Cripps)

Carsten Windhorst / FRPAP.com

14/31 McKell David, Actor, 17

The Harrow teenager, who is one of Screen International's 2014 Stars of Tomorrow, is about to star in three feature films – the low-budget Don't Grow Up, comedy Legacy and Montana, in which he plays the trainee to Lars Mikkelsen's assassin. Aged 12, he started a show on YouTube, The Adventures of Lil Mckell, a series of pranks filmed by his dad. He trained at agency IAG's drama school and had a small part in My Brother the Devil and TV roles. He says: "I want to be a versatile actor like Christian Bale."

DAVID SANDISON

15/31 Kate Phillips, Actress, 25

She plays Henry VIII's third wife Jane Seymour in the forthcoming BBC adaptation of Hilary Mantel's Wolf Hall, opposite Homeland's Damian Lewis as the king. It was her first-ever audition and she had to graduate early this year from the Guildhall School of Music and Drama to play the role. "It's scary filming, but I love it," says the Esher-born actress, who is one of Screen International's 2014 UK Stars of Tomorrow, and is also to star in The Crucible at the West Yorkshire Playhouse this autumn.

Teri Pengilley

16/31 Kimberly Anne, Musician, 26

The South London singer who is releasing her new EP, Liar, later this month, gave up music in 2011 because she didn't feel she was getting anywhere. "I tried every genre. I was a musical chameleon," she says. "There was enough wishy-washy music out there." But after making some new acoustic indie-pop demos, she was signed to Polydor last year. She first started performing at her local poetry night, but as she always took along her keyboard and sang, a career in music was probably never that far away.

Press Handout

17/31 Catherine and Lizzy Ward-Thomas, Singers, 20

Could the twin-sister country duo be Britain's answer to Dolly Parton? Raised on a rural livestock farm in Hampshire, but now residing in London, the sisters release their Nashville-recorded debut album, From Where We Stand, next month. "All the lyrics are about our everyday life in the UK, not about Tennessee or cowboys," says Catherine, who describes their music as "country with a twist of Americana". They penned songs while in sixth form and hope to spearhead a UK country sound.

18/31 Samantha Colley, Actress, 23

The West country actress has landed her first job starring in a new production of Arthur Miller's The Crucible opposite Hobbit actor Richard Armitage at the Old Vic Theatre later this month. She just graduated early from the Oxford School of Drama to take on the role of lovestruck Abigail Williams. "It was my first audition," she says. "I never thought I'd get the part. I'm still pinching myself."

Publicity handout

19/31 Georgia Lock, Actress, 17

The Buckinghamshire resident who is in her first year of A–levels stars in Disney's live action TV series Evermoor, which is out later this year. Following in the footsteps of Selena Gomez, who was discovered by the Disney Channel, Locke who has been on TV in Sadie J and Friday Download, could find herself an international star, as the show ¬premieres in more than 160 countries worldwide. She only took acting classes to boost her confidence. It certainly seems to have paid off.

Martyn Hicks

20/31 Eva Noblezada, Actress, 18

The American actress makes her stage debut in the West End production of Miss Saigon that opens next week. She was spotted by Cameron Mackintosh's casting agent at the 2013 National High School Music Theatre Awards in New York and cast in the lead role of Kim. The North Carolina native is still keeping up with her studies online to complete her high-school degree. "I'm trying not to take Kim's emotional baggage home with me," she says. "I have to learn how to switch it on and off." (Interview: Charlotte Cripps)

ki price

21/31 Kate Miller Heidke, Pop Singer, 32

The Australian pop singer releases her crowd-funded album O Vertigo in the UK on label Cooking Vinyl next year after reaching her target in three days. After some hits Down Under, where she lives in Melbourne, she parted ways with Sony Records last year, and got her fans to finance her. Classically-trained, she performs at The Great Escape Festival in Brighton next week and is appearing in the ENO's The Death of Klinghoffer at the New York Metropolitan Opera this summer. "My voice is my calling card," she says. (Interview: Charlotte Cripps)

22/31 Daisy Bevan, Actress, 22

She is the granddaughter of Vanessa Redgrave and daughter of Joely Richardson, but Daisy is not living in anyone's shadow. The actress, who still lives at home in West London with her mum, finds her family's constant support invaluable. "They are both a fount of wisdom," she says. She makes her stage debut next month in Dorian Gray at London's Riverside Studios with Jack Fox, who is James Fox's son. And in May she makes her film debut in Hossein Amini's The Two Faces of January, based on the Patricia Highsmith thriller. She went to Bedales before training at the The Lee Strasberg Institute in New York. "I'm so excited – it feels like a dream come true."(Interview: Charlotte Cripps)

Roy Tan

23/31 Cassidy Little, 32, Actor

The Canadian-born Royal Marine Commando (right) came to the UK 10 years ago to do stand-up comedy, then joined the Royal Marines as a bet. During his second tour of Afghanistan in 2011, he had a leg blown off by a bomb. Now he stars in The Two Worlds of Charlie F, a play performed by wounded military personnel, which is on national tour. He also had a part in BBC1's Doctors, playing someone who lost a leg, and now wants a career as an actor. "I need the adrenalin buzz," he says. "Acting hits that spot." (Interview: Charlotte Cripps)

24/31 Aaron Goddard, artist, 23

A favourite with A-list artists, Goddard has recently exhibited work in a charity auction alongside Tracey Emin and the Chapman brothers. He works from a spare room in his south London house, where he creates colourful installations. The rest of the time he works as a bartender at London's Groucho Club, having graduated from Central St Martin's School of Art in 2013. "I'm not making any money from my art yet," he says. His work is included in a group show at London's The Rag Factory next month. (Interview: Charlotte Cripps)

Richard Mildenhall

25/31 Kiesza, pop star, 25

To be a sailor or a pop star? The Calgary-born Kiesza joined the Canadian navy's cadets programme after a knee accident stopped her career as a ballerina. Her shooting skills had such precision that the army tried to recruit her as a sniper. But during a turbulent sea voyage when the crew played instruments on board a ship, she had a change of heart and wrote some songs. She received a scholarship to Berkley College of Music in Boston. Now her electro-pop debut EP Hideaway is out next month. (Interview: Charlotte Cripps)

Meredith Truax

26/31 Emma Richardson, musician, 31

Making music is not the Band of Skulls bassist's only love. She has been busy painting large-scale abstract paintings and drawings on linen from her studio in her hometown of Southampton whenever she can. The work, which explores the subconscious, will go on show at London's The Outsiders gallery this month. Trained at Wimbledon School of Art, one of her paintings featured on the cover of the band's first album, Baby Darling Doll Face Honey. But she says, 'The band comes first: it's my true love.' (Interview: Charlotte Cripps)

David Sandison

27/31 Gia Coppola, filmmaker, 27

Does the surname sound familiar? Well, film-making runs in the family. Francis Ford Coppola's grandaughter and Sofia Coppola's niece has just made her debut feature film, Palo Alto, which will be released in the US in the spring. James Franco sent her an advance copy of his short-story collection of the same name, which inspired her dark comedy about teenagers in Palo Alto, California. Casting Franco and Julia Robert's neice, Emma Roberts, in your first film isn't bad – but after all, this is Hollywood.(Interview: Charlotte Cripps)

Getty Images

28/31 Cariad Lloyd, comedian, 31

Is this the new Catherine Tate? In 2011 she was nominated for Best Edinburgh Fringe Newcomer, after turning up with a suitcase of costumes. Now The Cariad Show is in development with the BBC. 'I'm trying to develop something along the lines of the US sketch show Portlandia,' she says. She is also part of improvisation group Austentatious who who will appear at the Independent Bath Literature Festival on 8 March. Then she will appear in a new BBC3 sitcom Crims playing a prison warden. (Interview: Charlotte Cripps)

29/31 Lauren Owen, novelist, 28

Her fans include Hilary Mantel and Kate Atkinson: what better start can you have for a debut novel? The Quick, which is published in April, is a Gothic blockbuster about a brother and sister in Yorkshire, which is the novelist's home county. She wrote the story as part of her creative writing MA course at the University of East Anglia - and with the help of an agent, got a book deal with Random House. 'It's been my dream to write a book since I was 11,' she says. 'It's still quite surreal that it has happened.' (Interview: Charlotte Cripps)

30/31 Troy Von Scheibner, magician, 24

Is this the new Dynamo? Well, he's certainly not the new Paul Daniels. This laid-back South Londoner who looks like a rapper has landed a six-part TV series called Troy on E4 early next year. He will go undercover as a magician surprising the public when he pulls a rabbit from a baseball cap. Troy fell in love with magic at six years old and joined The Young Magicians Club aged 13. He balanced a university degree with magic gigs, until he was discovered doing hip magic in a restaurant by a TV scout. (Interview: Charlotte Cripps)

David Sandison

31/31 Ella Eyre, singer, 19

She's just made the BBC Sound of 2014 longlist, but the West Londoner, who is inspired by Ella Fitzgerald and is dangerously addicted to sushi according to her Twitter account, has already had a taste of fame. She featured on Rudimental's No 1 'Waiting All Night' and has collaborated with Tinie Tempah, Bastille and Naughty Boy. The former BRIT school student, whose own life experiences inform her soulful pop, releases her catchy debut EP, Deeper, next week. (Interview: Charlotte Cripps)

Stephanie Sian Smith
BBC Radio 1 DJ Huw Stephens will count down to the winner early next year live on the breakfast show.
"It's always an exciting time of year to take stock and look at what might be making us dance, cry and jump for joy into the year ahead," he said.
"I'm excited because there are a lot of artists I and my fellow DJs have supported on the list, and it's another great chance to share the music we love with an even bigger audience."
The Sound of 2015 longlist
George the Poet
James Bay
Kwabs
Lapsley
Novelist
Rae Morris
Raury
Shamir
Shura
Slaves
SOAK
Stormzy
Sunset Sons
Wolf Alice
Years & Years
Reuse content