Never one to retire from the spotlight, Britney Spears has kick-started her Las Vegas residency to mainly positive reviews.
The "Gimme More" singer opened the first of her Sin City shows with what MTV has described as a "larger than life production" with " blaring beats and rapid-fire dance moves".
Mixed reviews have appeared thick and fast since Friday's performance at Planet Hollywood Resort and Casino, which saw Spears "artfully meld spectacle with stagecraft" according to USA Today.
The pop star was described as being "at her toughest" during the show by the New York Times, but the paper went on to call her "downright listless" compared to her energetic back-up dancers.
Caryn Ganz from Rolling Stone was not impressed with the show, calling Spears' dancing "lackadaisical" and noting that she seemed "truly frightened" during "Slave 4 U". Spears "remained safely on a throne, executing minimal choreography while her dancers did the heavy lifting," Ganz wrote.
"The show is called "Piece of Me," and that's exactly what it delivers -- no more, no less," said Mikael Wood from the LA Times.
Spears is reported to be earning in the region of $300,000 per show and, with 100 shows planned for the next two years, Spears is set to make close to $30 million.
During the performance, Spears dances on a massive 100-foot stage in front of one of the largest video installations in the world which, at one point, projects Will.i.am during her song "Scream and Shout". Fourteen back-up dancers join her for 21 songs and, as part of a dramatic finale, she flies across the room on a cable after leaping from a giant tree.
The 32-year-old singer's microphone is on throughout the 90-minute show and a live four-piece band feature, but much of the sound is, unsurprisingly, pre-recorded
Songs chosen for the set list include classics "Baby One More Time", "Oops! I Did It Again" and "Womanizer" alongside some tracks from her latest album Britney Jean.
Katy Perry, Miley Cyrus and Selena Gomez were spotted in the VIP section for Friday's show and tickets for the "non-stop hits bonanza" in high demand.
"If you told me I'd be front row and center on Britney Spears' opening night 10 years ago I would've never believed you," Cyrus tweeted.
From 29 January, Spears will play three shows a week to 4,500 people throughout February, with four-week segments also booked for April, May, August and September.
Robin Leach, the man in charge of Las Vegas' nightlife, has described Spears as "the obvious and natural choice" because of her large, established fanbase.
"When you look at the landscape of pop stars, pop princesses, pop queens, there's nobody other than Britney who has the depth of a career and the number of albums," he said.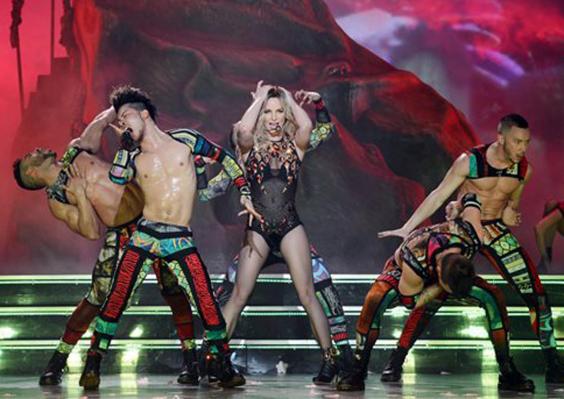 Reuse content