Bruno Mars has dropped the title track from his long-awaited third album 24K Magic and fans of his catchy grooves won't be disappointed.
The high energy song's hedonistic video opens with a dramatic movie-style title, before Mars and his blinged-up entourage emerge from a private jet and head to downtown Las Vegas. Once there, they splash some serious cash and throw the party of their lives,even jet skiing through the Fountains of Bellagio.
"I'm a dangerous man with some money in my pocket," Mars sings disco funk style as an array of scantily-clad ladies dance around him (*eye roll*). 
The video, directed by Mars in collaboration with Cameron Duddy, has proved both a hit and a miss with fans. "I kinda miss the romantic cute Bruno," wrote one fan under the clip on YouTube, while another voiced their disappointment at the lack of originality on display.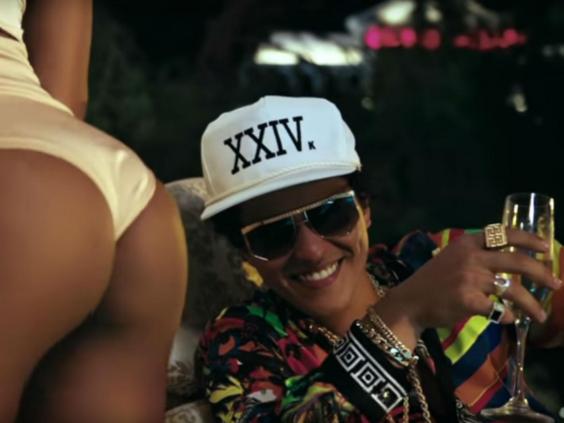 "Bruno obviously has a lot of talent and he could be innovative if he wanted to but instead he just went with what's popular and put together a music video with the same content we always see these days," they said. "Spending money, partying and girls shaking their asses. Who remembers when artists used to make unique content?"

Mars teased the release of "24K Magic" on Instagram earlier this week, writing "You can call it my first single but I call it the invitation to the party!" before also sharing the new album cover.

The album follows 2012 chart-topper Unorthodox Jukebox, which featured hits such as "Treasure" and "Locked Out of Heaven". Mars has been busy in between albums, releasing 2015's biggest single "Uptown Funk" with Mark Ronson, co-writing Adele's "All I Ask" and performing at the Super Bowl Half Time show in 2014 and 2016.
24K Magic is due out on 18 November with "24K Magic" available to download now from iTunes.
Reuse content