The day the music died may be revisited.
More than 50 years after the plane crash that killed Buddy Holly, officials in the US may reopen an investigation into the causes of the accident.
The man who helped forge Rock and Roll, along with  Ritchie Valens, JP "The Big Bopper" Richardson and pilot Roger Peterson, were killed in February 1959 when their light aircraft crashed in Iowa, on the way to North Dakota. An inquiry at the time found that a combination of poor weather conditions and pilot error were responsible for the crash. A second investigation, in 2007, appeared to confirm that.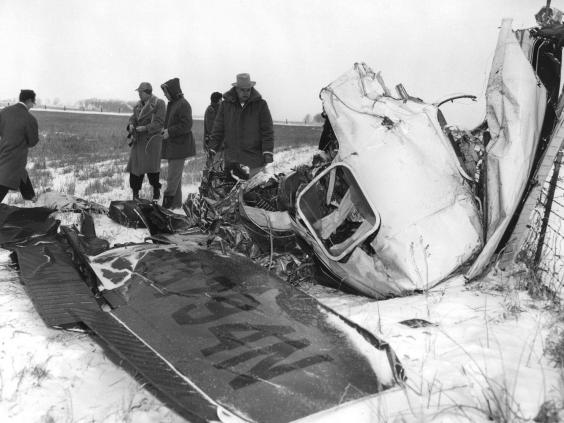 But a retired pilot from New England, LJ Coon, has appealed to the National Transportation Safety Board, to carry out another inquiry, suggesting that problems with the plane's rudder pedals may have caused the 21-year-old pilot to lose control of the plane.
The Globe Gazette newspaper said that Mr Coon had theorised that Mr Peterson may have tried to glide the single-engine Beechcraft Bonanza to a landing before the plane's right wing hit the ground, sending it cartwheeling across a cornfield.
"I believe that the NTSB will review pilot Peterson's diagnostic actions in the aircraft during this 3.5 minute flight and realise the heroic efforts that took place in those 4.9 miles," Mr Coon wrote.
In an email sent to Mr Coon last month, NTSB officials reportedly wrote: "You have got our attention."
A spokesman for the NTSB told The Independent on Wednesday that it had received a request to look into the issue and was determining whether it met the requirements to do so.
"That means it either has to contain new information or else show that the original inquiry erred," said a spokesman.
Holly, 22, the man behind tracks such as That'll Be the Day, Peggy Sue and Oh Boy and whose real name was Charles Holley, had recently split with his band, The Crickets, and making his way to North Dakota as part of a solo tour. His pregnant wife learned of the crash when she was watching television news.
The singer-songwriter Don McClean wrote about the "day the music died" in his hit American Pie.
Reuse content