The day Busted fans have been dreaming of for, oh, just ten long years, could finally be about to arrive. 
Charlie Simpson, who quit the chart-topping trio in 2005 after growing tired of pop songs, is reportedly on board for a reunion arena tour after witnessing the success of McBusted.
Busted bandmates Matt Willis and James Bourne joined forces with McFly in 2013 to form supergroup McBusted, fulfilling fans' wildest fantasies of hearing both "What I Go To School For" and "5 Colours In Her Hair" in the same concert.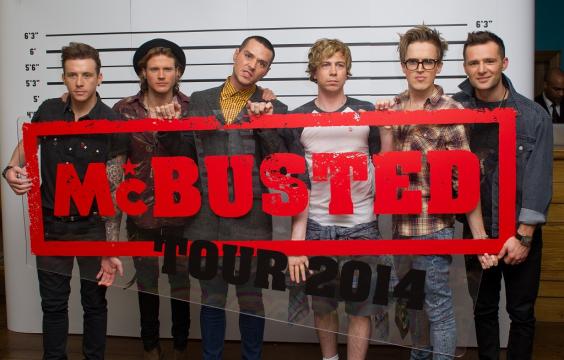 Simpson opted not to take part as he was busy with metal group Fightstar and his solo stuff, but The Sun reports that he has been in talks with the boys to plan a surprise comeback. 
"It's amazing because Matt and James have always said there's more chance of pigs flying than Charlie coming back to Busted," the "source" allegedly told the newspaper. 
"But this is something that has been secretly discussed for a number of months - it was important the three guys felt they could work together again and get along as friends."
Best Band Reunions
Best Band Reunions
1/11 The Libertines, 2014

Pete Doherty with Carl Barat at The Libertines' reunion gig in Hyde Park

Getty Images

2/11 Fleetwood Mac, 2013

The Sixties rock band reunited for a world tour in 2013 following rumours that had been circulating since 2008. Christine McVie joined the band on stage for their London shows, and announced in January 2014 that she would rejoin the band for good

Polaris

3/11 Blur, 2008

The Britpop band announced their reunion in 2008 with a concert in London's Hyde Park. They later went on to headline Glastonbury that summer. Damon Albarn recently released solo material, but said the band will continue together

4/11 Outkast, 2014

The hip hop duo announced they would be headlining Coachella 2014 as part of their comeback to celebrate their 20th anniversary

Getty Images

5/11 S Club 7, 2014

S Club 7 reunited for a Children in Need performance before announcing a 2015 arena tour

BBC

6/11 Black Sabbath, 2012

Black Sabbath reunited in 2012 at the O2 Academy in Birmingham, marking the band's first concert together since 2005. Drummer Bill Ward said he would not join the reunion until he was given a 'signable contract'

7/11 My Bloody Valentine, 2008

Irish alternative rock band My Bloody Valentine reunited for a world tour in 2008, over ten years since their split following a successful 20 year career

8/11 Rage Against the Machine, 2007

Rap metal band RATM reunited to headline Coachella in 2007. The reunion was described by guitarist Morello as a vehicle to voice the band's opposition to the 'right wing purgatory' of George W Bush's presidency

Getty Images

9/11 Led Zeppelin, 2007

Led Zeppelin reunited to headline a benefit concert in London's 02 in 2007, marking the band's first full concert since the death of drummer John Bonham in 1980

Rex Features

10/11 Pixies, 2004

The alternative rock band reunited ten years after their split to sell-out tours at London's Brixton Academy. The dates became the fastest-selling in the venue's history

Getty Images

11/11 Blink 182, 2009

Four years after announcing their 'indefinite hiatus', the band returned with force. 'To put it simply, we're back. We mean, really back. Picking up where we left off and then some. In the studio writing and recording a new album,' they said on their website.

Getty Images
Tom Fletcher of McFly and McBusted cranked up the excitement on Monday when he posted an Instagram picture of himself playing guitar and looking up, with the caption: "Is it a bird? Is it a plane? No, it's Charlie freakin' Simpson! Or so rumour has it."
It is heavily rumoured that Busted will return to the stage by the end of the year and fans are already going crazy at the news on Twitter...
IF THIS TRUE OR THIS IS JUST A DREAM??!! ARE BUSTED RE-FORMING????!!!! THIS IS ONE OF THE BEST THING EVEEEEER!!!!! 

— Laura HWE TODAY (@mcflythebest) October 6, 2015
If Busted reunite amma run round the village naked

— Bronnie! (@Rev97Bronnie) October 6, 2015
Charlie re-joining Busted? Let me just go cry with happiness 

— Caitlin (@cc_lomax) October 6, 2015
...but not everyone is convinced about Charlie's possible motives.
I'm sure Charlie rejoining Busted has nothing to to with all the success they've had & money they've made without him...Nothing at all...

— Leanne (@HelloLeanne_) October 6, 2015
You could say Charlie Simpson's savings account is..........busted pic.twitter.com/ADvCWx2wsL

— Bianca Del Taco Trio (@elmer_dudd) October 5, 2015
Busted's representative declined to comment on the speculation, while Simpson's publicist said: "Charlie is fully focussed on the Fightstar album and tour this month".
Reuse content