Chris Martin has jokingly accused Angelina Jolie of "kidnapping" him to make sure he penned a song for war biopic Unbroken.
The Coldplay frontman told a false story to Vulture, beginning with Jolie sending him a message demanding that he meet her in an "undisclosed location to be blindfolded and picked up by seven ex-Navy SEALS".
Martin, who wrote "Miracles" for the film and will compete for Best Original Song at the Oscars, continued: "They kidnapped me, hit me over the head and sprayed me with Mace.
"When I woke up, I was in an office and Brad Pitt was doing push-ups as Angelina Jolie was just sitting there with her crown on. There was also a guy holding a knife to my throat and she said, 'Write me a song or else'.
"Brad Pitt said, 'Yeah. What she said.'"
Oscar-tipped films for 2015
Oscar-tipped films for 2015
1/10 The Imitation Game

Keira Knightley, Matthew Beard, Matthew Goode, Benedict Cumberbatch and Allen Leech in The Imitation Game

Snap Stills/REX

2/10 The Theory of Everything

Felicity Jones and Eddie Redmayne in Stephen Hawking biopic The Theory of Everything

Working Title Films

3/10 Boyhood

Ella Coltrane in widely acclaimed coming of age drama Boyhood

4/10 Unbroken

Written by the Coen Brothers and directed by Angelina Jolie, Unbroken could be a major player that comes from a woman that already has an Oscar

5/10 Foxcatcher

Featuring Channing Tatum, Foxcatcher will be Steve Carell's first 'serious' role and is directed by Oscar-nominated director of Moneyball, Bennett Miller

6/10 Interstellar

Directed by Christopher Nolan, the film features Oscar winners Matthew McConaughey and Anne Hathaway

7/10 Gone Girl

Oscar winner Ben Affleck is back for the screen adaptation of Gillian Flynn's popular novel Gone Girl, directed by two-time best director nominee David Fincher ('The Social Network' and 'The Curious Case of Benjamin Button')

8/10 Whiplash

The film follows a young musician who struggles to make it as a top jazz drummer and is already a strong contender starring JK Simmons

9/10 Suite Francaise

Based on the work of acclaimed novelist Irène Némirovsky, the film, starring Oscar-nominee Michelle Williams, comes fifty years after her death

10/10 Suffragette

Meryl Streep plays Emmeline Pankhurst in Sarah Gavron's new historical drama Suffragette, what is expected to be the Big Brit film of the year

Getty Images
Unbroken, which tells the story of Olympic runner turned World War II hero Louis Zamperini, hits UK cinemas on Boxing Day.
Director Jolie found herself the target of the recent cyber-attack on Sony Pictures when leaked emails saw executives brand her a "minimally talented spoilt brat".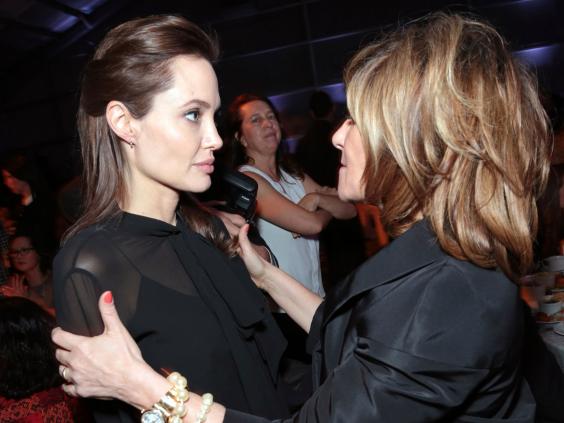 Sony chairman Amy Pascal and producer Scott Rudin described the Hollywood star as "seriously out of her mind" in a series of messages.
Reuse content