Classic FM has won the media race for internet traffic following news of One Direction's year-long split.
While classicfm.com's take on the news is unlikely to have earned the same number of clicks as the MailOnline's, it still has over 2k shares - and for a very good reason.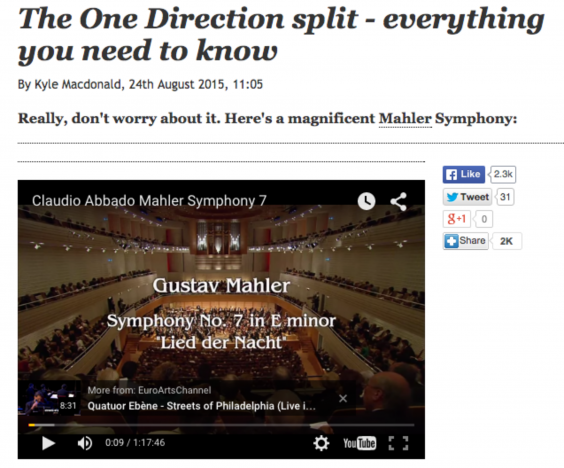 In an article published on the radio station's website that reads "One Direction split - everything you need to know", the author, Kyle MacDonald, has instead given fans a one hour seventeen minute video of Gustav Mahler's Symphony No 7 in E minor.
Other than the subhead, which reads "Really, don't worry about it. Here's a magnificent Mahler Symphony," the article lets the Mahler video speak for itself.
And after news that Louis, Liam, Niall and Harry won't be splitting permanently but taking a year-long hiatus to work on solo projects, fans should take heed of Classic FM's advice not to get too upset.
1D: Crazy things Directioners say
1D: Crazy things Directioners say
1/20 One Direction

'I'm so jealous of everyone that meets One Direction. Then again if I met Harry I would hyperventilate, suffocate and die so...' - @m_a_g_z_i_e

2/20 One Direction

'If I ever received a tweet from anyone in One Direction I'd literally die on the spot and I want my obituary and tombstone to blame them.' - @aurosan

3/20 One Direction

'When I die, I want the One Direction 'Talk Dirty to Me' video displayed at my funeral, on a screen projected over my casket, playing non stop, thank you.' - @zaynlikespayne

4/20 One Direction

'I cannot speak I want to write the word 'love' everywhere and tell everyone I love One Direction more than anything ever.' - @sneezeharrys

5/20 One Direction

'I'm in the 'I'm gonna die alone with 8 cats and my posters of One Direction don't breath near me or I'll punch you' mood.' - @nouisteenagers

6/20 One Direction

'HARRY. YOU ARE NOT A GOD DAMN MAN WHORE. YOU ARE A CUPCAKE. JESUS.' - @daddyslittlelou

7/20 One Direction

When 1D were on the cover of GQ magazine: 'The GQ pictures make me want to stab myself in the uterus!' - @ziallsafari

8/20 One Direction

'I hope that I die before any of the boys in One Direction does cause I will not be able to even move if they go before I do.' - @pokeniall

9/20 One Direction

Another GQ response read: 'Holy. C**p. The boys on the cover of GQ magazine. Someone shoot me. Push me off a cliff. Stab me!' - @wafaastalks

10/20 One Direction

'Person: Why do you love One Direction? Me: Why do you breathe? Person: If I didn't I'd die. Me: Exactly.' - @idrugsharry

11/20 One Direction

'Don't hate on Louis you f**king a******s or I will shove bleach into your a******s and pull out your eyes with a spork.' - @fxkinlouis

12/20 One Direction

'When are you in public and a One Direction song comes on and your kidneys rupture and then you die.' - @harryhasbooty

13/20 One Direction

'If One Direction were falling off a cliff and I could only save one then I'd shoot myself so we could all die and meet in heaven' - @austinrahone

14/20 One Direction

''One Direction is goin' to be the next to break up'. If you don't shut up I will break your neck and pray for you to die.' - @bubblegumniall

15/20 One Direction

'My friend doesn't like One Direction and I told her that if she said something rude on Twitter she would die.' - @flashing1D

16/20 One Direction

'Do you ever feel like you want to scream and cry and laugh and smile and die because of One Direction. Because same.' - @chenloves1d

17/20 One Direction

'When Niall cuddles someone or something and his cheeks do the thing I die.' - @daintyiero

18/20 One Direction

'My parents always say 'They're gonna die down' and 'You'll grow out of them'. No f**k you I'm getting One Direction tattooed across my face.' - @calumshoran

19/20 One Direction

'Dear One Direction, you stole my heart but that's okay. I like my boys like I like my tea - hot and British with some Irish creme.' - @torii_rakusx

20/20 One Direction

'Imagine Niall barging into the church and saying 'I OBJECT' to your marriage because he loves you.' - @niamhabitat
Reuse content