Fatboy Slim has been announced last minute to play a DJ set at Banksy's "bemusement park" Dismaland.
The Brighton based DJ will join Run the Jewels on Friday 4 September for a night of music at the street artist's pop-up exhibition in a slot originally due to be filled by DJ Dapper Dan.
Musicians including The Savages, Kate Tempest, Pussy Riot and Massive Attack have agreed to play at Dismaland live events every Friday before the Weston-super-Mare theme park closes on 27 September.
Fatboy Slim, real name Norman Cook, told BBC 6 Music; "I've been trawling through the Disney back catalogue, working out ways I can subvert it in the same manner that Dismaland tries to subvert it - but in a reverential way."
Feels like a very #Dismaland day today pic.twitter.com/nInwd1OTH4

— Fatboy Slim (@FatboySlim) September 4, 2015
The father-of-two added: "There will be a sort of twisted tribute to Disney is some form or another. I'm very au fait with the Frozen soundtrack and it might feature in my set."
Dismaland features work from more than 50 artists including Damien Hirst, Jimmy Cauty and Jenny Holzer.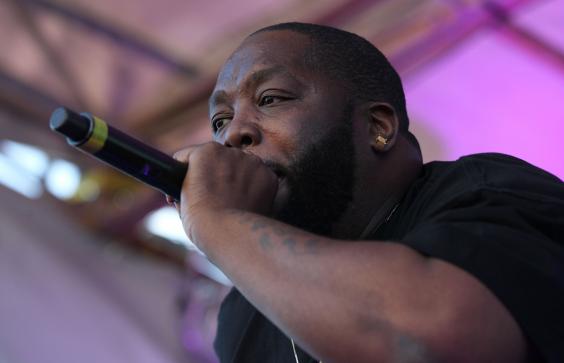 Artworks on display include a model of Cinderella thrown from her carriage surrounded by paparazzi to represent Princess Diana's death, a   statue of a killer wale jumping out of a toilet and a boat pond filled with miniature migrant boats.
Dismaland is open everyday until 27 September, 11am-11pm. Admission £3, free for the under-fives.
Inside Banksy's Dismaland
Inside Banksy's Dismaland
1/13 A Look Inside Dismaland Bemusement Park

"Seagull Attack" by Banksy sits near the entrance, proved to be a bit of a photo opportunity, a taxidermied seagull perches on the other side of the bench

Reuters

2/13 A Look Inside Dismaland Bemusement Park

The Bill Barminski - Cardboard security entrance, visitors must first get through security to enter the park. This can include being searched, emptying bags and even being instructed to touch your toes.

Reuters

3/13 A Look Inside Dismaland Bemusement Park

Dismaland opened to the general public this weekend and everyone seems to be talking about it. Many have speculated whether long queues and website crashing issues are purposeful in order to make Dismaland that little bit more dismal.

Reuters

4/13

The Bill Barminski - Cardboard security entrance, visitors must first get through security to enter the park. This can include being searched, emptying bags and even being instructed to touch your toes.

Reuters

5/13 A Look Inside Dismaland Bemusement Park

Visitors are handed their very own guide to the park inside, featuring the names of the installations and show-times. On the front it brands Dismaland "the UK's most disappointing visitor attraction".

Reuters

6/13 A Look Inside Dismaland Bemusement Park

An overview of the park, set on the former site of Tropicana. Tropicana was closed in the 1990's and since then has had rumours of regeneration. The exhibition will be the first major event on site since its heyday as a seaside attraction.

Reuters

7/13 A Look Inside Dismaland Bemusement Park

"Topple the anvil and win the anvil" - just one of the many disappointing games visitors can try their hand at.

Reuters

8/13 A Look Inside Dismaland Bemusement Park

"What its really like to be a princess" the scene of Cinderella hanging lifeless outside her pumpkin carriage as paparazzi surround it inside the castle in the center of the park. A dark reference to the death of Princess Diana.

Reuters

9/13 A Look Inside Dismaland Bemusement Park

Mushroom Cloud made of Cotton by Artist Dietrich Wegner

Reuters

10/13 A Look Inside Dismaland Bemusement Park

A twist on theme park boating games the white cliffs of dover provide a backdrop to boats of migrants and faceless bodies float in the black water.

Reuters

11/13 A Look Inside Dismaland Bemusement Park

"Killer Whale jumping from a toilet" a piece by Banksy as a reference to the treatment of orca's in seaworld parks.

Reuters

12/13 A Look Inside Dismaland Bemusement Park

In classic Banksy style he applies his stencilling technique to a mural named "woman showering" when talking about the exhibition Banksy declared that he was aiming for something very different to street art.

Reuters

13/13 A Look Inside Dismaland Bemusement Park

Another piece by banksy looms above a lake referencing Jeffrey Archer

Reuters
Reuse content