Don McLean wants to sell more from his music collection after his 17-page annotated manuscript for "American Pie" was bought for $1.2 million (£805,000) at auction.
He said "I have other things I'm going to sell," but did not give details about which manuscript he will auction off next.
The singer said he wanted to make his notes on "American Pie" available to the public over 40 years after the single's release in 1972 to show that the lyrics were more than just a word game.
McLean told ITV news he decided to sell the manuscript to his legendary song as part of a "programme to lighten the load and get rid of things" as he was turning 70.
He added that he thought it would be best to auction his handwritten annotations to the hit single because "people feel like that song belongs to the public".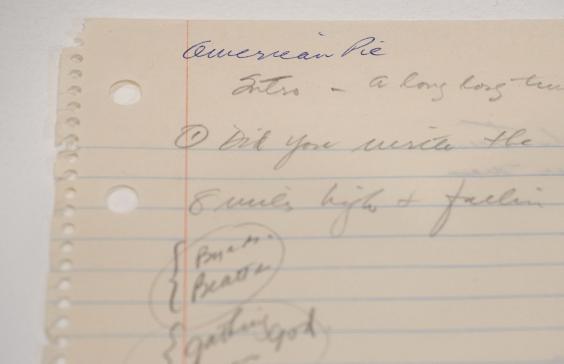 While "American Pie" has proven to be McLean's most enduring song, he also had commercial success with his tribute to Vincent Van Gogh, "Vincent", released in the same year.
McLean has always refused to speak about the meaning of the lyrics to "American Pie", telling fans "It means I never have to work again".
It is thought that the sale of his annotated lyrics will give a new insight into what McLean intended the song to mean.
The most common theory is that the song refers to the death of Buddy Holly, Ritchie Valens and The Big Bopper in a plane crash in 1959.
McLean has said he did learn of Buddy Holly's death in February 1959 "with every paper I delivered" while doing his paper round as a boy.
He said recently the song was "an indescribable photograph of America that I tried to capture in words and music".
Reuse content