Sonic Highways was a hugely ambitious project. An eight episode HBO series which saw the Foo Fighters travel to eight different cities to record eight tracks all influenced by their respective cities.
It turns out that wasn't ambitious enough for Dave Grohl though as he's confirmed there will be a second season of Sonic Highways, and what's better is it could potentially be set in the UK.
"It might or might not be international, it might someday be international," Grohl said to NME. "It might only be in England. It might be in England and other places."
The first series originally aired in October 2014 and followed the band as they recorded their eigth studio album of the same name.
Glastonbury line-up 2015
Glastonbury line-up 2015
1/23 Kanye West - headliner

The headliner on Saturday night will perform on the Pyramid Stage, following the footsteps of Jay-Z, who performed in 2008.

Getty

2/23 Florence and the Machine

Florence is performing this year, but not as a headliner.

Reuters

3/23 The Who - headliners

Roger Daltry (left) and Pete Townshend of the Who will bring Glastonbury to a close on Sunday night

PA

4/23 Pharrell William

The 'Happy' hitmaker will return to the stage at Worthy Farm.

Getty Images

5/23 Alt-J

...so will Atl-J.

Alt-J/Facebook

6/23 Mary J Blige

Mary J Blige will be making her debut appearance at the highly-anticipated festival.

Getty Images

7/23 Paloma Faith

Paloma is set to perform on Wednesday 24 at 7:00pm. Stage to be confirmed.

Getty Images

8/23 Fatboy Slim

The DJ will unveil a new feel good 'disco-circus' compilation at Worthy Farm

Getty Images

9/23 Alabama Shakes

Brittany Howard of Alabama Shakes

Phil Bourne/Redferns via Getty Images

10/23 The Waterboys

Singer Mike Scott and violinist Steve Wickham (left)

Getty Images

11/23 The Fall

Band's founder Mark E. Smith

12/23 CleanBandit

The band will return and promise to perform their hit 'Rather Be'.

© Justin Sutcliffe 2013

13/23 Azealia Banks

The American rapper returns to the UK for Glastonbury 2015.

14/23 George Ezra

After perfoming at Coachella, Ezra prepares for the UK's biggest festival.

15/23 Deadmau5

The Canadian DJ, known for his mouse mask, has been confirmed too.

Getty Images

16/23 La Roux

La Roux singer Elly Jackson.

Getty Images

17/23 Ella Eyre

Big-haired Ella Eyre returns to Glasto.

PA

18/23 Hozier

Hozier will please fans with his single 'Take Me To Church'.

Splash News/Corbis

19/23 Jessie Ware

Jessie Ware has legions of fans all over the world and will grace the UK at Glastonbury next.

Getty Images

20/23 The Maccabees

Felix White, Orlando Weeks and Hugo White of The Maccabees.

Borkowski

21/23 Kate Tempest

Kate Tempest, the Mercury Prize-nominated artist and poet is a draw to the festival.

Getty Images

22/23 Jamie xx

DJ Jamie xx returns to Glastonbury's stage this year.

23/23 Young Fathers

Mercury Prize winners Young Fathers

Simon Lewis
The frontman continued: "The great thing about the idea, the concept of the project, is that it can be anywhere because every city has some sort of musical history, but I don't know.
"Of all places in the world England and the UK just seems like it would be shooting fish in a barrel. There's just so f****** much here. I'm sure it will happen some time, I'm just not sure when"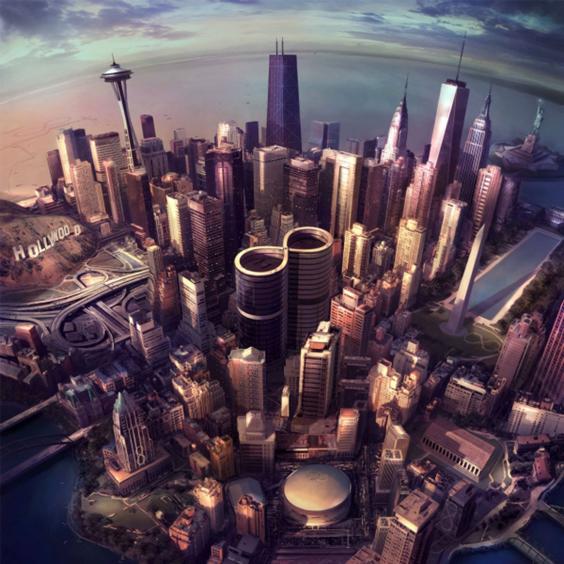 When asked why he said around the time of the first series why he said he would never do it again, the ex-Nirvana man said: "By the time we were finished with Sonic Highways I was just fucking exhausted… [we] got overwhelmed and tired.
"But it's kind of a magical luxury of my life that I'm able to go around and interview people and learn about the history of all these awesome places so I wouldn't just give it up that's for sure."
The Foo's are currently gearing up to headline Glastonbury for the first time in their career. Also appearing at the festival will be Kanye West, The Who, Florence + the Machine, Alt-J and The Maccabees.
Reuse content