A permanent archive of Glastonbury memorabilia is to be held at the V&A museum, festival organisers have confirmed.
Scroll to see photos from the archive
Festival founder Michael Eavis and his daughter Emily have already given the museum an extensive collection of festival memorabilia, including programmes, posters, backstage passes, setlists, letters and photos.
The items date back to the first ever Glastonbury on 19 September 1970, when tickets were £1 and The Kinks headlined the festival, which promised "a lightshow, lightship, diorama and films, freaks and funny things" on its bill.
Other pieces due to be added to the archive include personal accounts and documents that trace the origins of the festival, and maps that reveal how Glastonbury has grown and developed on its site in Worthy Farm.
Glastonbury archive at the V&A
Glastonbury archive at the V&A
1/7 Glastonbury archive at the V&A

A girl caked in mud dances at Glastonbury, part of the many photos that are in the archive

Matt Cardy

2/7 Glastonbury archive at the V&A

An image from the first Glastonbuty festival in 1970

Brian Walker

3/7 Glastonbury archive at the V&A

A photo of a festival goer somersaulting in the air. The archive will include material that shows the festival's evolution

Matt Cardy

4/7 Glastonbury archive at the V&A

The Pyramid Stage at Glastonbury. The archive will document how the iconic stage has changed

Ann Cook

5/7 Glastonbury archive at the V&A

Modern festival-goers enjoy a main performance

Ann Cook

6/7 Glastonbury archive at the V&A

Festival-goers enjoy a sunset over Glastonbury behind their tents

Matt Cardy

7/7 Glastonbury archive at the V&A

An example of a scrapbook placed in the V&A's archive

Glastonbury Festival
Martin Roth, director of the V&A, said: "The archive is interesting not only for its diversity but also for its fascinating witness to creative, social and political change in the UK."
The archive will be added to after each Glastonbury to capture the evolution of the festival, with selected highlights due to be displayed in the V&A's Theatre and Performance Galleries from March 2015 – January 2016.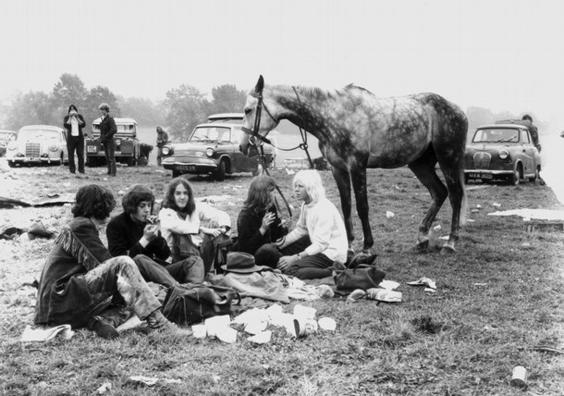 Speaking about the new archive, Michael Eavis said: 'When I set out on this crazy hippy trip 44 years ago, little did I know how this roller coaster would run. But now I have to pinch myself every morning when I wake up to the excitement of another day - heading up a team of the most creative artists anywhere in the world.
"The V&A is an inspirational space and feels like the natural 'home' for our ever-evolving archive so we can really show everyone, not just festival-goers, what we really do."