Guns N' Roses frontman Axl Rose has commented on recent reunion rumours by insisting that the "only thing confirmed" is his love of US fast-food chain Taco Bell.
The "Paradise City" singer is reportedly set to headline Coachella in April with the band's original members, including lead guitarist Slash, before embarking on a world tour. It would be Rose and Slash's first time on stage together since 1993.
Guns N' Roses fans have been celebrating after Billboard announced that "various inside sources" had confirmed the news as true, but there is yet to be an official statement.
Rose is the first bandmate to have his say, tweeting early this morning:
The only thing I know "confirmed" is my LOVE of Taco Bell! Mmmmm.... Taco Bell!! Happy New Years!!

— Axl Rose (@axlrose) January 1, 2016
He will appear on Jimmy Kimmel Live next week to discuss the speculation, according to Rolling Stone. It is expected that the hotly-awaited confirmation will be saved until then when he can talk about it in person.
Reports first began circulating after Guns N' Roses started selling merchandise featuring their iconic guns-wrapped-in-roses logo, with bandmates separately hinting that they were ready to reform.
Best Band Reunions
Best Band Reunions
1/11 The Libertines, 2014

Pete Doherty with Carl Barat at The Libertines' reunion gig in Hyde Park

Getty Images

2/11 Fleetwood Mac, 2013

The Sixties rock band reunited for a world tour in 2013 following rumours that had been circulating since 2008. Christine McVie joined the band on stage for their London shows, and announced in January 2014 that she would rejoin the band for good

Polaris

3/11 Blur, 2008

The Britpop band announced their reunion in 2008 with a concert in London's Hyde Park. They later went on to headline Glastonbury that summer. Damon Albarn recently released solo material, but said the band will continue together

4/11 Outkast, 2014

The hip hop duo announced they would be headlining Coachella 2014 as part of their comeback to celebrate their 20th anniversary

Getty Images

5/11 S Club 7, 2014

S Club 7 reunited for a Children in Need performance before announcing a 2015 arena tour

BBC

6/11 Black Sabbath, 2012

Black Sabbath reunited in 2012 at the O2 Academy in Birmingham, marking the band's first concert together since 2005. Drummer Bill Ward said he would not join the reunion until he was given a 'signable contract'

7/11 My Bloody Valentine, 2008

Irish alternative rock band My Bloody Valentine reunited for a world tour in 2008, over ten years since their split following a successful 20 year career

8/11 Rage Against the Machine, 2007

Rap metal band RATM reunited to headline Coachella in 2007. The reunion was described by guitarist Morello as a vehicle to voice the band's opposition to the 'right wing purgatory' of George W Bush's presidency

Getty Images

9/11 Led Zeppelin, 2007

Led Zeppelin reunited to headline a benefit concert in London's 02 in 2007, marking the band's first full concert since the death of drummer John Bonham in 1980

Rex Features

10/11 Pixies, 2004

The alternative rock band reunited ten years after their split to sell-out tours at London's Brixton Academy. The dates became the fastest-selling in the venue's history

Getty Images

11/11 Blink 182, 2009

Four years after announcing their 'indefinite hiatus', the band returned with force. 'To put it simply, we're back. We mean, really back. Picking up where we left off and then some. In the studio writing and recording a new album,' they said on their website.

Getty Images
In the last week, the band's Facebook page has been updated with a cover photo of a live crowd, their official website shows the logo and a video of "Welcome to the Jungle" playing over clips of dancing crowds has been showing before screenings of Star Wars: The Force Awakens.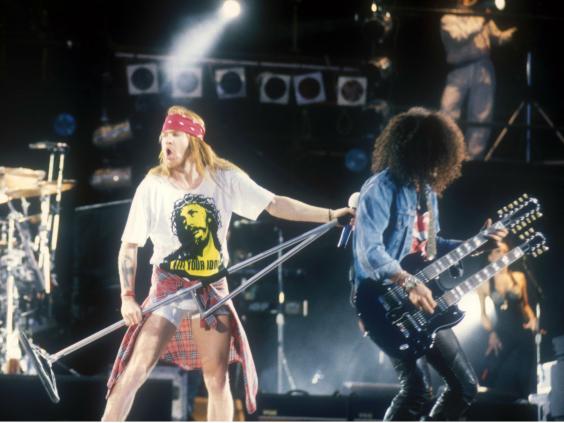 Slash recently said that there is no longer any "animosity" between himself and Rose after the pair's long-standing feud. "Over time we all just got sick and tired of the black cloud," he told CBS News. "The biggest thing that happens when you have a break-up that is less than harmonious is you build up a bad energy because of the distance. The bad feelings get exaggerated."
To date, Guns N' Roses have sold more than 100 million albums worldwide.