An extraordinary row has erupted between one of Europe's most respected string quartets and London's premier chamber music venue over the cancellation of a forthcoming concert. It has left the relationship between two major names in classical music in tatters.
Wigmore Hall has taken the unprecedented step of demanding that the Leipzig String Quartet's musicians and management "stop emailing" – after they allegedly bombarded the venue with complaints about being dropped.
Astonishingly, the row has its origins in the arrest of the quartet's lead violinist Stefan Arzberger for the attempted murder of a fellow hotel guest in New York. The violinist, in his defence, claims that he was drugged insensible at the time and had been robbed by a transsexual prostitute.
Because of the uncertainty created by the pending charges, the Leipzig String Quartet lined up a substitute violinist for its Wigmore Hall performance on 27 June. The venue claims it was never informed of the switch, and director John Gilhooly cancelled the show on finding out that the original line-up would not be performing.
What followed was an increasingly fractious email exchange – thought to extend to 30 messages – between the quartet's manager Ute Rost and senior figures at the hall.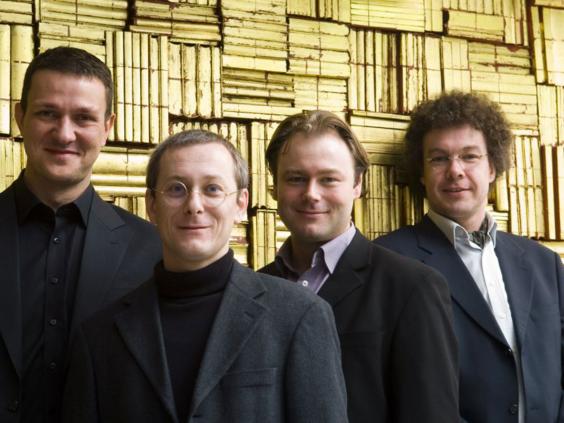 It culminated with a clearly exasperated message from Mr Gilhooly. "Please stop emailing us," it read. "The decision to cancel is final. You have broken the contract, and this correspondence is now closed." It was the only email to be put in the public domain, and is believed to have been published by someone close to the quartet.
The cancellation, and the leaked email, prompted heated debate on classical music forum Slipped Disc. Tensions raised as a Wigmore Hall staff member and the quartet's cellist challenged each other's versions of events.
No Wigmore Hall official has spoken publicly since the row broke, and Mr Gilhooly declined to comment. Yet in a seemingly unsanctioned move, one venue staff member weighed in with a string of comments on the classical music forum.
Billy Boyd, who works at Wigmore Hall, criticised the quartet heavily, saying: "To not inform a promoter of a change in personnel in a quartet is bizarre, unprofessional and to say the least dishonest. Each promoter expects to see the string quartet they actually booked appear for a performance, and it is only good manners, not least a contractual obligation, to inform a promoter of such a change."
Cellist Matthias Moosdorf hit back, saying: "Of course we did not lie. Why should we do this?" He continued: "Billy, nothing is right in your description."
The string quartet faces more immediate problems – namely a Manhattan court hearing next week for its lead violinist. Police told the New York Post that Mr Arzberger, 42, was arrested on the morning of 26 March as he wandered the corridors of the Hudson Hotel naked, knocking on doors.
When a 64-year-old guest opened her door, he forced his way into her room, "grabbed her around the neck with both hands and started strangling her", it is alleged. Hotel staff pulled him off the guest, who was a stranger, and he was later taken into custody.
In an earlier court hearing, defence lawyer Richard Levitt said Mr Arzberger was "poisoned by a date rape-type drug. There's no other explanation for what happened that night". Under the influence of the drug he was assaulted and robbed by a person the authorities believe to be a transsexual prostitute, the lawyers said, adding he had assaulted the innocent guest "while in an unconscious state". He denies attempted murder.
The quartet has maintained a robust defence of Mr Arzberger, saying he was the real victim. "We feel great solidarity and hope for a sudden end of that nightmare! Stefan we are with you!" it said.
Ms Rost pointed out that the violinist may well have been free to perform at Wigmore Hall if next week's hearing goes his way. She said: "We still presume that he will be discharged then, meaning he would be allowed to travel and of course perform with the quartet from then on."
Reuse content