Australian rapper Iggy Azalea has accused her critics of sexism, claiming that negative reviews are often "100,000 per cent to do with the fact she has a vagina".
The "Fancy" star, 24 was asked in a recent interview whether she is the victim of misogyny, to which she responded: "Well, they don't say that stuff about Macklemore".
Azalea was recently criticised by black rapper Azealia Banks, who described her global success as "cultural smudging" and accused of ignoring black issues such as the Ferguson protests.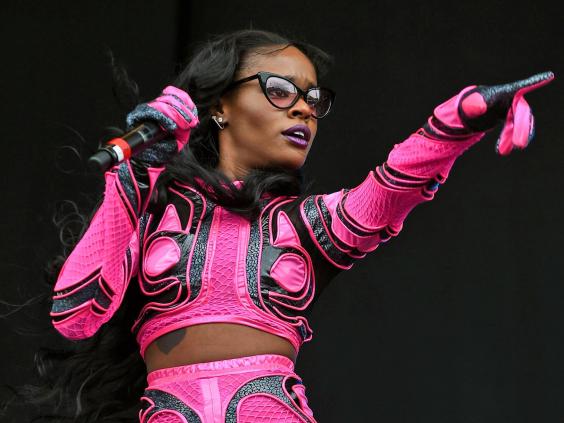 "That Iggy Azalea s**t isn't better than any f**king black girl that's rapping today, you know," Banks told Hot 97. "When they give these Grammys out, all it says to white kids is 'Oh yeah, you're great, you're amazing, you can do whatever you put your mind to'.
"But it says to black kids, 'You don't have s**t. You don't own s**t, not even the s**t you created for yourself,' and it makes me upset."
Online activists Anonymous threatened Azalea in the wake of Banks' comments, vowing to leak photo stills from an alleged sex tape if she did not apologise for "misappropriating black culture, insulting peaceful protesters and making light of Eric Garner's death".
Now, Azalea has addressed the issue of rapping as a "white girl", insisting that she "never thought it was strange".
"If you go back to the Rolling Stones and Elvis Presley and Eminem, they've all basically done black music," she told Vanity Fair. "I felt this wasn't that far from what we've seen in music history over and over again."
Highest earning hip-hop artists
Highest earning hip-hop artists
1/9 2. P Diddy - $60m

P Diddy's earnings came from a number of commercial deals including agreements with Diageo's Ciroc vodka, De Leon tequila and Sean Jean clothing

2/9 3. Jay Z - $60m

Unlike Dr Dre and P Diddy, Jay Z's earnings did come from musical projects thanks to his 'On The Run' tour and his growing Roc Nation empire

Getty Images

3/9 4. Drake - $33m

Drake made his money through sales of his latest album, a concert arena tour and endorsement deals with Nike

Stephen Lovekin/Getty Images

4/9 5. Macklemore & Ryan Lewis - $32m

The hip-hop duo were rewarded for their Grammy wins with good concert and album sales that helped them earn the number five slot on Forbes' list

Getty Images

5/9 6. Kanye West - $30m

Kaney's tour coupled with his marriage to Kim Kardashian translated into good figures for the self-confessed 'Yeezus'

Getty Images

6/9 7. Birdman - $24 million

The Cash Money co-chief continued to earn good money through his record label

7/9 8. Lil Wayne - $23 million

The rapper saw his earnings increase by 50 per cent from 2012/2013 thanks to playing 56 shows

8/9 9. Pharrell Williams - $22m

Williams has seen a huge boost to his career thanks to summer hits 'Get Lucky', 'Blurred Lines' and 'Happy'. His fashion venture also helped him enter Forbes' top 10

Kevin Winter/Getty

9/9 10. Eminem - $18m

Emimen claims a spot in the top 10 thanks to a handful of lucrative tour dates and sales from his latest album. He is also said to claim good sales from his back catalogue

PA
Some rappers believe that Azelea should be more respectful of her music's black origins. Q-Tip tweeted her, urging her to "take into account the history as you move underneath the banner of hip-hop" while Macklemore argued that artists "cannot disregard where this culture came from and our place in it as white people".
Azalea has been involved in multiple feuds with musicians, including rappers Snoop Dogg and Eminem. The latter featured a rape-themed lyric about Azalea in his song "Vegas", prompting her to tweet that she was bored of "old men threatening young women as an entertainment trend".
Azalea won Favourite Hip-Hop Artist at the People's Choice Awards in Los Angeles last night.
Reuse content