She is no stranger to posting shocking photographs of herself on social media, but now Lady Gaga's tricks have caused Instagram concern.
The social media site has sent a message to Gaga, voicing its concerns with her recent posts, which included photographs of handwritten notes saying "each day I cry, I feel so low, from living high" posted with the hashtag #DOPE.
Instagram wrote to the singer saying they wanted to "reach out" and help her.
In an email it said: "Hi, Members of the Instagram community have raised concern for your well-being after seeing posts you've shared. We're re reaching out to provide you with some important safety information."
Gaga responded by mocking Instagram's letter of concern. She posted the message to her 40 million Twitter followers, saying "omg at this email INSTAGRAM just sent me...what the actual hell. Hahahahaha."
The two handwritten notes Gaga posted to Instagram are thought to be lyrics from the track "Dope" on her new album ARTPOP. The verses, which appear to reference drug-taking, include the lines: "Been hurtin' low from living high…Toast one last puff and two last regrets."
She revealed earlier this month that "Dope" was "the evolution of a fan song that became a deep confession in me". Both Instagram photgraphs are posted with the hashtags #27daystillARTPOP #DOPE.
The posted lyrics are Gaga's latest attempt to drum up publicity for her new album. In July, the singer left Twitter in what was widely reported to be a promotional strategy for the record's release.
She later restored her profile at the end of July, tweeting: "1ST SINGLE FROM ARTPOP COMES AUG.19 #24DAYS"
The singer also appears to have paid for a promoted tweet in which she shows off the Jeff Koons artwork to her new album cover.
The promoted tweet reads: "FULL ARTPOP ALBUM COVER. 'One second I'm a Koons, then suddenly the Koons is me!' #ApplauseJeffKoons" appears at the top of her profile despite being posted on 7 October.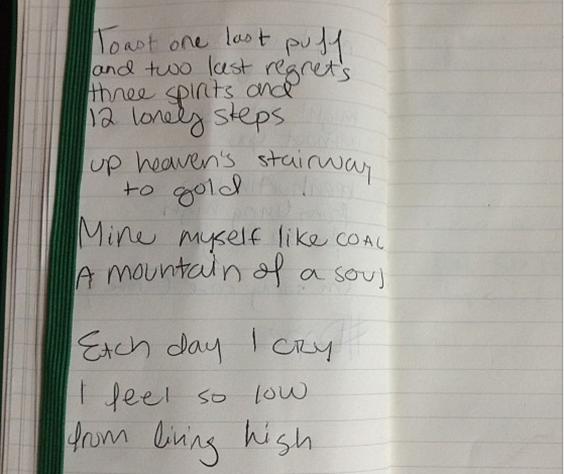 Reuse content