Children should be weaned off an obsession with fame and be given a solid grounding in songwriting at schools and colleges, one of rock's rising stars has said.
Ten A-level music students were given a special masterclass at the Royal Albert Hall by Jake Bugg, the 19 year-old songwriter from Nottingham, whose observational lyrics, gritty vocal style and acoustic strumming have provoked comparisons with Bob Dylan.
Brit Award nominee Bugg was the latest talent to work with young musicians at the Kensington venue, following student sessions with violinist Nicola Benedetti and Emeli Sande.
Bugg rehearsed with the singers, chosen from London schools, who will perform his hit song "Broken" on the Royal Albert Hall stage with the star this Friday.
Bugg, who admitted that he failed his own music theory course at college, said schools should do more to help children explore their creative instincts.
"Maths and English come from the brain but music comes from the heart and soul," he said. "I lasted four weeks before I was kicked out of my media technology course. Some teachers weren't the most inspiring. They wouldn't let us experiment for ourselves. I realised that I didn't want to be there. I wanted to do what I wanted to do."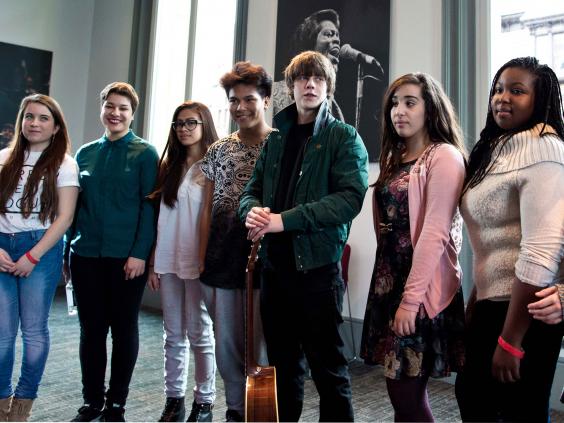 Bugg told the students: "The key is learning how to write songs. It's all about having songs that when you play them, people connect to them and relate to them.  Whenever I get a free moment I try to write songs."
The singer said: "A lot of young people are quite besotted by fame. They want to see their faces on the side of buses. But I couldn't really care less about the fame side of it. I knew music was all I ever wanted to do."
He warned that going on talent shows like The X Factor might deliver a short-cut to fame but they wouldn't help young artists pursue a long-term career.
"It's good exposure but it would be a lot better if you got people writing their own songs," said Bugg, whose self-titled debut album topped the charts in 2012. "It would be great to see people going on there, writing songs and getting the opportunity to make their own record. Not to have one song and never be seen again. That's what happens. What's the point?"
X Factor winners: Where are they now?
X Factor winners: Where are they now?
1/10 2013: Sam Bailey

The clear winner from the outset, Sam Bailey went on to beat teen singers Luke Friend and Nicholas McDonald. Bailey's cover of Demi Lovato's 'Skyscraper' went straight to number one on 22 December 2013, becoming the first X Factor winner in three years to gain the Christmas number one spot. Her debut album is due to be released on 24 March. She is also currently pregnant with her third child.

Rex Features

2/10 2012: James Arthur

He secured the biggest-selling X Factor winner's song ever with 'Impossible', but last year's victor James Arthur has been at the centre of controversy recently. Arthur got into a Twitter spat with fellow former contestant Lucy Spraggan when he used a homophobic lyric in a rap. The singer apologised on-air for 'abusing [his] position as an X Factor winner' after a performance on the results show a few weeks ago. Arthur's new single 'Recovery' is currently number 19 in the Official UK Singles Chart.

3/10 2011: Little Mix

Girl band Little Mix are one of The X Factor's success stories. Formerly known as Rhythmix, the group released an autobiography in August 2012 and their debut album came out that November, reaching number three. Little Mix's Perrie Edwards is engaged to One Direction's Zayn Malik which, you know, helps with the the whole fame thing. The band toured earlier this year and have enjoyed US success too. Their latest album Salute was released on 15 November.

4/10 2010: Matt Cardle

Singer-songwriter Matt Cardle performed 'Unfaithful' with Rihanna during the 2010 X Factor finals. He famously criticised Syco for being 'very pop' when he, apparently, wasn't. Shortly afterwards, he left Cowell's label. Cardle returned to the charts when his first album 'The Fire' made number eight and was well-received by critics. He recorded a duet with Spice Girl Melanie C, 'Loving You', in the summer and will be touring new album 'Porcelain' in April 2014.

5/10 2009: Joe McElderry

Rage Against The Machine's 'Killing In The Name' famously beat Joe McElderry to the Christmas number one in 2009, following an internet campaign to do battle with Cowell's chart machine. McElderry's luck failed to pick up and he soon found himself winning yet another talent show, Pop Star to Opera Star. Recently, he's enjoyed some success in the classical world and appeared in several West End shows. He is signed with Universal Music's Decca label.

6/10 2008: Alexandra Burke

Alexandra Burke's cover of Leonard Cohen's 'Hallelujah' sold more than a million copies in the UK, a success she followed with five top ten singles and a hit album. Burke has been a brand ambassador for a women's deodorant and signed a modelling contract in 2010. She joined The X Factor as a guest judge during the final of the eight series. The 'Bad Boys' singer has another album out next year but it will be released on RCA records after her recent split from Simon Cowell's label.

7/10 2007: Leon Jackson

'When You Believe' became the fastest-selling single of 2007 when winner Leon Jackson released it before Christmas, but he was dropped in 2009 following poor sales. His third single 'Creative' only reached number 94 in the charts and half his tour dates were cancelled. At present, Jackson is reportedly writing a second album that he will release independently.

8/10 2006: Leona Lewis

She's The X Factor's darling and one of the only acts still with Simon Cowell's label. Leona Lewis enjoyed huge international success after winning the 2006 show and releasing her first single 'A Moment Like This'. Recently, she has struggled, with sales of her latest album 'Glassheart' down steeply from those of her debut in 2007.

9/10 2005: Shayne Ward

After his victory on the second show, Ward achieved the fourth fastest-selling UK single ever with 'That's My Goal'. Several other hits and three albums followed and at one stage, he was reportedly considered to replace Jason Orange in Take That. Ward was dropped six years later to make room for other upcoming stars on Syco's label and has since turned his hand to performing in London musical Rock of Ages with Justin Lee Collins. The Mancunian singer appeared in Dancing on Ice in January 2013 but was eliminated in the fifth round.

10/10 2004: Steve Brookstein

The first winner of The X Factor, Steve Brookstein scored a number one single with 'Against All Odds' but was dumped by Sony BMG just eight months afterwards for being a one-hit wonder. Since his brief success evaporated, Brookstein has performed on cruise ships and was spotted in 2010 performing in a small Cornish pub for £2.50 a ticket. Brookstein no longer appears in publicity for The X Factor and as a result, he has repeatedly hit out at both the show and Simon Cowell. He is, however, still singing, and has a new album 'Soul Journey' out in February.
Music students should study the roots of artists they admire.  Citing Jimi Hendrix as his inspiration, Bugg told his audience: "I was blown away and disheartened at the same time because I knew I'd never play guitar like Hendrix.
"Whenever I get into an artist I trace their music back to the people who influenced them to create that sound. With Hendrix it's the blues, Robert Johnson and Son House."
Even educational failures can make their mark in music. "I can't read music and I failed my theory exam so I suppose my experience shows you don't really need to know music theory. Most songs come along by accident. A song is up in the ether and you need someone to pull it down and grab hold of it," he said.
Although nominated for Best British Male at Wednesday's Brits in a category that includes David Bowie, Bugg said winning won't change his life. "It's cool to be nominated. But an award doesn't have a lot of sentimental value to me. It won't change how I think about music or my career."
The workshops are part of the Royal Albert Hall's education and outreach programme which currently reaches 100,000 young people each year.
Reuse content