Jamie T is returning to the stage for a short run of live dates later this month.
The "Sheila" singer announced the news to fans through a handwritten note posted on his website, revealing he had "decided it might be time to play a few a few shows".
Jamie T will play gigs in Glasgow, Liverpool and Portsmouth at the end of July, with tickets available to purchase from 10am tomorrow.
The 28-year-old is believed to be working on a new album, after keeping himself out of the limelight since his 2009 second record, Kings & Queens.
Former Tribes frontman Johnny Lloyd claimed to be working with Jamie T on the follow-up in 2013, describing material in the pipeline as "great, really slow, angry punk".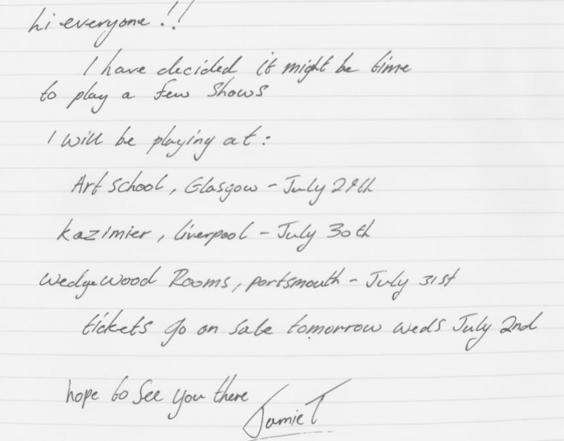 Jamie T's latest release was single "Emily's Heart", backed with a cover of Bruce Springsteen's "Atlantic City" and taken from his last album. 
"Wrongful Suspicion" with Rancid's Tim Armstrong came out in 2012 but he has released no solo material since 2010.  
Jamie T was awarded Best Solo Artist at the NME Awards in 2007 and 2010 and first burst onto the scene with his debut album Panic Prevention in 2007.
Reuse content