Madonna has described Kanye West as her "comrade" in the "envelope-pushing genre" of music.
The 56-year-old singer collaborated with the rapper for three tracks on her new album Rebel Heart and, according to her, they bonded over criticism they have both received for pushing boundaries.
"Kanye is the black Madonna," she told the New York Daily News. "We know, and recognise, that we have that in common. We're comrades in the envelope-pushing genre."
The "Like a Virgin" star recently branded West "a beautiful mess" and a "brilliant madman".
Kanye West's greatest self comparisons
Kanye West's greatest self comparisons
1/12 God: "I am God's vessel. But my greatest pain in life is that I will never be able to see myself perform live."

Getty

Getty

2/12 Steve Jobs: "I think what Kanye West is going to mean is something similar to what Steve Jobs means. I am undoubtedly, you know, Steve of Internet, downtown, fashion, culture. Period. By a long jump."

Getty

David Paul Morris/Getty Images

3/12 Walt Disney: "I'm more of a Walt Disney or something. Rap is just a chamber of my thoughts. [They're] something that I really wanted to express as a modern day poet."

Getty

Getty

4/12 Braveheart: "I feel like a little bit, like, I'm the Braveheart of creativity."

Getty

5/12 Willy Wonka: "I want to be as unrealistic as possible. The worst thing about me comparing myself to Steve Jobs in that it's too realistic of an idea. What I need to stay is I'm more like Willy Wonka."

Getty

Getty

6/12 Picasso: "No matter how they try to control you, or the motherfucker next to you tries to peer pressure you, you can do what you motherf**king want. I am Picasso."

Getty

Getty

7/12 Hermés: "Visiting my mind is like visiting the Hermès factory. S**t is real."

Getty

Getty

8/12 Michelangelo: "When I think of competition it's like I try to create against the past. I think about Michelangelo and Picasso, you know..."

Getty

Getty

9/12 The Pyramids: "... the pyramids."

Getty

Getty

10/12 Thomas Edison: "I am Thomas Edison."

Getty

Getty

11/12 Soldiers: "You're literally going out to do your job every day knowing that something could happen to you."

Getty

Getty

12/12 The Police: "This is like being a police officer or something."

Getty

Getty Images
Madonna added that she "feels like a survivor" after making music for three decades. "I see that many of my peers and friends and people I collaborated with are no longer with us," she said, revealing that Rebel Heart contains "a lot of reminiscing".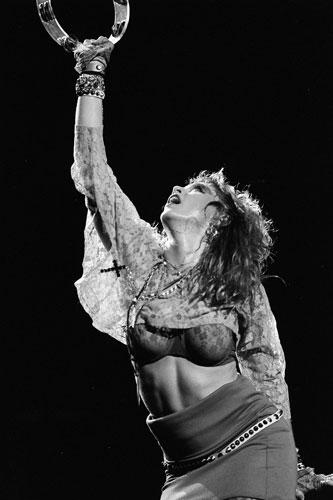 "That gave me pause. I said, 'Wow, I can't believe I made it this far'. That was a catalyst for me. There's a looking back here, a missing the beginning of my career when I was surrounded by other artists. It was a time when pop music was more naïve and free."
Madonna has also addressed the critics who argue that she is too old to show off her body on stage. "Bitch, this is what my ass looks like – show me what your ass looks like when you're 56," she said.
"I take care of myself. I'm in good shape. Who's to say when I can show my ass? It's sexism. It's ageism, and it's a kind of discrimination.
"I mostly hear it from women. I feel I should be hearing support – like, 'Good for you'. I'm opening doors for women behind me who one day won't have to deal with this s**t that I deal with."
Reuse content