The countdown to Kendrick Lamar's follow-up to the game-changing Good Kid Maad City has begun, after the rapper posted a pre-order link to his new album on Twitter.
Now officially called Untitled and bearing black artwork, it consists of 17 tracks, five more than GKMC, and includes his recent fiery single The Blacker the Berry.
Kendrick linked to the iTunes page for the LP, which has an 'expected release' of 23 March (unless it gets leaked and nudged forward).
The minimalist name and cover art puts the music in the spotlight, and presumably references its theme of racial tensions.
March 6, 2015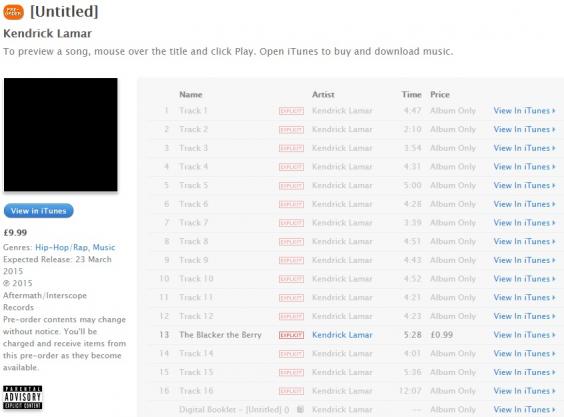 Back in  November he said that the album was pretty much done and that his brother has the only copy.
"A copy? You gonna have to go through my little brother, he's 10 years old," Kendrick told DJ Whoo Kid on his radio show.
"No, real talk. He has the album and he tell me what he like. That's my A&R right there. Sophisticated ear.
"He's in somebody's elementary [school] right now, telling 'em: 'Watch.'"
It doesn't look as though the polarising 'i' will feature on the album, though the experimental track he debuted live on The Colbert Report might well do.
Reuse content