Rapper Kendrick Lamar stole the show at the 56th Grammy Awards, and now he is reaping the benefits.
The 26-year-old Californian has seen his Spotify traffic rise 99 per cent since his performance of "M.A.A.D City" and "Radioactive" with Imagine Dragons during Sunday night's ceremony – the largest increase of any rap act on the music streaming service.
Country singer Taylor Swift certainly enjoyed the collaboration – she was filmed boogying on down in the front row, while the rest of the crowd stayed in their seats. Lorde, Beyoncé, Jay Z and Aerosmith's Steven Tyler were all spotted appreciating the music.
Lamar missed out on an award for Best Rap Album at the Los Angeles bash. Macklemore, who won the accolade with Ryan Lewis, texted Lamar after the show: "You got robbed. I wanted you to win. You should have."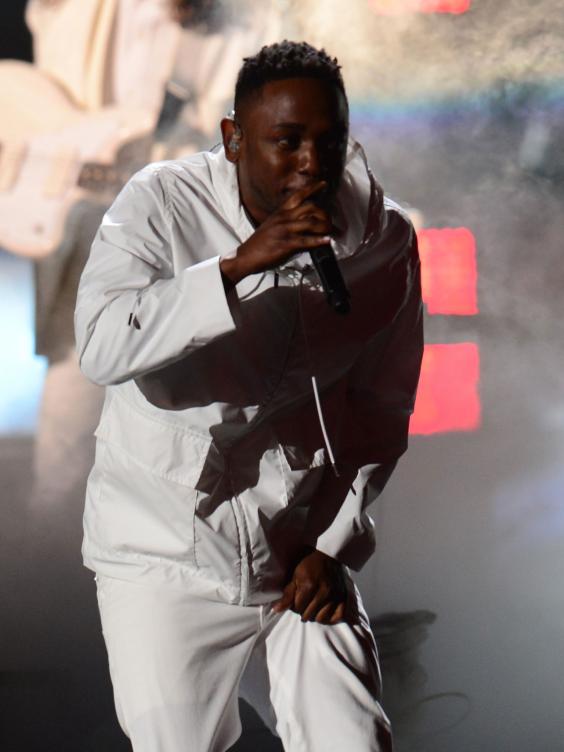 "It's weird and sucks that I robbed you," the apologetic message continued. "I was gonna say that during the speech. Then the music started playing during my speech and I froze."
Macklemore & Ryan Lewis recorded a 65 per cent jump in Spotify traffic after the duo took home four Grammy Awards. Producer of the Year winner Pharrell Williams enjoyed a 54 per cent rise, while Beyoncé's raunchy rendition of "Drunk In Love"" hiked the song's Spotify plays up by 52 per cent.
The highest increase on a single song was achieved by "Another Star", which Daft Punk performed with Stevie Wonder at the ceremony. The French dance act saw a 205 per cent increase from Sunday to Monday – the largest for a group or artist that was nominated for a Grammy or performed during the event broadcast.
This year's Grammy Awards were not without the usual memorable moments: 33 couples were married live on-stage by Queen Latifah during Macklemore & Ryan Lewis' duet with Madonna to "Same Love"; Taylor Swift headbanged at her piano while singing a ballad; the Beatles reunited; and Beyoncé donned a leather thong and fishnet tights before getting on all fours and crawling around.
Swedish company Spotify has come under attack from musicians recently, with several high-profile acts, including Radiohead's Thom Yorke, claiming that artists are paid meagre royalities by the service.
Yorke removed his Atoms for Peach project from Spotify last year, calling it "the last desperate fart of a dying corpse" and sparking the platform to launch a website explaining to musicians how its business model works.
Spotify insists that the average payment to rights-holders for a single play of a track is between $0.006 and $0.0084.
Grammy Awards 2014: Best pictures
Grammy Awards 2014: Best pictures
1/14 Grammys 2014

One of the 33 couples who married at the Grammy Awards during a performance of Macklemore & Ryan Lewis' 'Same Love'

GettyImages

2/14 Grammys 2014

Beyonce performs 'Drunk in Love' at the Grammys

Getty Images

3/14 Grammys 2014

Taylor Swift head-banging her way through 'All Too Well'

Getty Images

4/14 Grammys 2014

Rock band Imagine Dragons with their award for Best Rock Performance

Getty Images

5/14 Grammys 2014

Daft Punk arrive at the Grammys. The electronic duo won four awards including Best Album of the Year

Getty Images

6/14 Grammys 2014

Macklemore and Ryan Lewis with their four Grammy awards

Getty Images

7/14 Grammys 2014

Madonna arrives at the awards ceremony sporting a glittery tooth guard

Reuters

8/14 Grammys 2014

Katy Perry performing on-stage during the 56th Grammy Awards

Getty Images

9/14 Grammys 2014

Tony Iommi (L), Ozzy Osbourne (C) and Geezer Butler (R) of Black Sabbath pose in the press room after winning Best Metal Performance

Getty Images

10/14 Grammys 2014

Lorde performing at the ceremony. The 17-year-old won Song of the Year and Pop Solo Performance

Getty Images

11/14 Grammys 2014

Kendrick Lamar and Imagine Dragons appear from a cloud of smoke to perform together

Reuters

12/14 Grammys 2014

Pharrell Williams accepts the award for Record of the Year with Daft Punk

Reuters

13/14 Grammys 2014

Sir Paul McCartney performs with Ringo Starr on stage

Getty Images

14/14 Grammys 2014

Sean Lennon, Yoko Ono and Charlotte Kemp Muhl on the red carpet

Getty Images
an