Kendrick Lamar has attempted to diffuse the debate currently raging on the internet regarding Macklemore's triumph over him in the best rap album category, pointing out that the Grammys aren't everything.
Many feel Lamar's critically-acclaimed album Good Kid MAAD City deserved the prize, which came after the rapper's stunning performance with Imagine Dragons at the ceremony, with Macklemore himself apologising for having won it.
K Dot is unphased by the snub, however, telling XXL in his first post-Grammys interview: "It's well deserved; he did what he did, man. He went out there and hustled and grinded. Everything happens for a reason; the universe comes back around, that's how it go."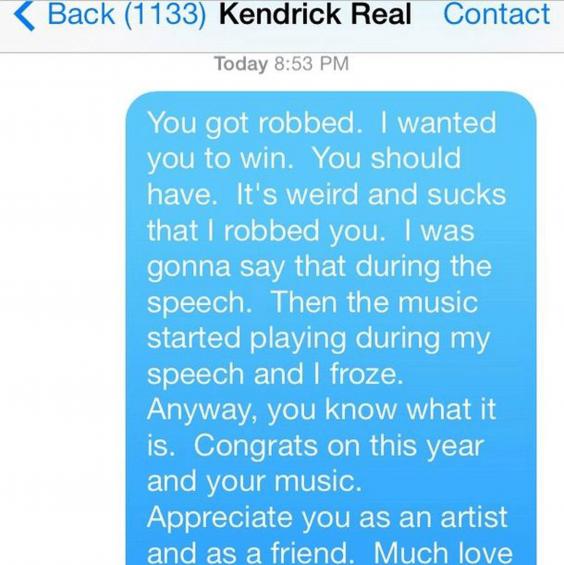 He did suggest that hip-hop is undervalued at the Grammys however, saying the fragmentation of genres doesn't help.
"I definitely feel like they should always have more of the culture up in there, for sure, because we definitely stand out just like any other genre," Kendrick added.
"We part of the world. We part of the movement. So I think any awards, including the Grammys, should always push for more hip-hop because it's music as a whole, it's not just splitting different regions. Everything moves as far as sound and vibrations, and that's how it goes. And we are a part of that."
Macklemore text Kendrick shortly after the Grammys saying the Compton rapper was 'robbed' and that he had wanted to dedicate his award to him, posting a grab of the SMS on Instagram.
Grammy Awards 2014: Best pictures
Grammy Awards 2014: Best pictures
1/14 Grammys 2014

One of the 33 couples who married at the Grammy Awards during a performance of Macklemore & Ryan Lewis' 'Same Love'

GettyImages

2/14 Grammys 2014

Beyonce performs 'Drunk in Love' at the Grammys

Getty Images

3/14 Grammys 2014

Taylor Swift head-banging her way through 'All Too Well'

Getty Images

4/14 Grammys 2014

Rock band Imagine Dragons with their award for Best Rock Performance

Getty Images

5/14 Grammys 2014

Daft Punk arrive at the Grammys. The electronic duo won four awards including Best Album of the Year

Getty Images

6/14 Grammys 2014

Macklemore and Ryan Lewis with their four Grammy awards

Getty Images

7/14 Grammys 2014

Madonna arrives at the awards ceremony sporting a glittery tooth guard

Reuters

8/14 Grammys 2014

Katy Perry performing on-stage during the 56th Grammy Awards

Getty Images

9/14 Grammys 2014

Tony Iommi (L), Ozzy Osbourne (C) and Geezer Butler (R) of Black Sabbath pose in the press room after winning Best Metal Performance

Getty Images

10/14 Grammys 2014

Lorde performing at the ceremony. The 17-year-old won Song of the Year and Pop Solo Performance

Getty Images

11/14 Grammys 2014

Kendrick Lamar and Imagine Dragons appear from a cloud of smoke to perform together

Reuters

12/14 Grammys 2014

Pharrell Williams accepts the award for Record of the Year with Daft Punk

Reuters

13/14 Grammys 2014

Sir Paul McCartney performs with Ringo Starr on stage

Getty Images

14/14 Grammys 2014

Sean Lennon, Yoko Ono and Charlotte Kemp Muhl on the red carpet

Getty Images
Reuse content