Miley Cyrus has ditched the foam finger in favour of dwarves for her latest performance on German television.
The singer has courted controversy once again by performing her single "Can't Stop" on game show Schlag Den Raab surrounded by a number of dwarves on stage.
Cyrus's support acts can be seen playing instruments and performing the dance move which proved so divisive at the MTV Video Music Awards last week: twerking.
At one point the 20-year-old can be seen slapping a blonde dwarf (who is herself wearing silver spanx) on the bum.
The child star, who gained fame as Disney's Hannah Montana, later tweeted a picture of herself posing with the five dwarves backstage.
The performance comes days after US Vogue editor Anna Wintour reportedly refused to have Cyrus on the cover of the December edition following her raunchy performance at the VMAs.
Cyrus's PR machine is continuing its whirlwind activity as the star continues to shake off the clean-cut girl-next-door persona. Yesterday she revealed the video for the new single "Wrecking Ball" (below) in which she appears naked while writhing on a large metal ball.
The star, whose emphatic tongue-wagging at the VMAs divided critics, can also be seen suggestively licking the large metal ball which she is straddles while singing "Wreck me".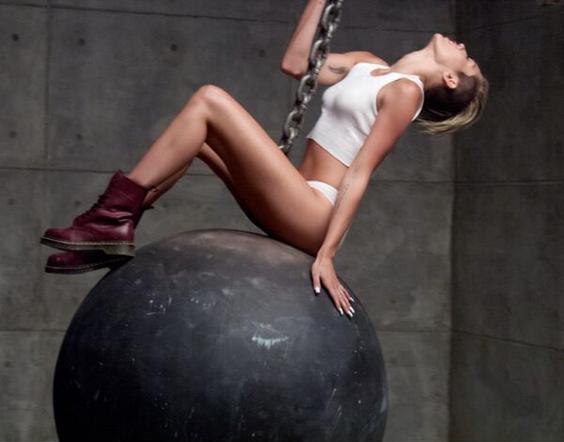 Reuse content