It promises to be an evening of mistletoe and whine. In one of rock's unlikeliest couplings, Sir Cliff Richard has agreed to perform as Morrissey's "special guest" at the former Smiths frontman's New York show.
Sir Cliff, 73, the clean-living, pro-Royal, pillar of the entertainment establishment, will support the militantly-vegetarian, anti-monarchist Morrissey at the 19,000 capacity Barclays Center in Brooklyn this June.
Morrissey, 54, has signed up another UK singing legend, Sir Tom Jones, as the special guest for his Los Angeles show in May. In a statement, Morrissey said he was "honoured and thrilled" to have Jones and Richard on the bills.
The pairing with Sir Cliff intrigued Morrissey fans. Both singers left ground-breaking bands, The Shadows in Cliff's case, to become iconic solo artists.
Their common thread appears to be Elvis Presley. Morrissey wrote in his autobiography of his fascination with the early rock n'roll pioneers and both quiff-bearing singers have aped Elvis's visual style and rockabilly sound, during their career.
Morrissey and Cliff have displayed an enigmatic approach to their sexuality. The Mancunian singer and the deeply Christian Cliff were assumed to be celibate for long periods and though both have lived with male companions neither wishes their sexuality to be categorised.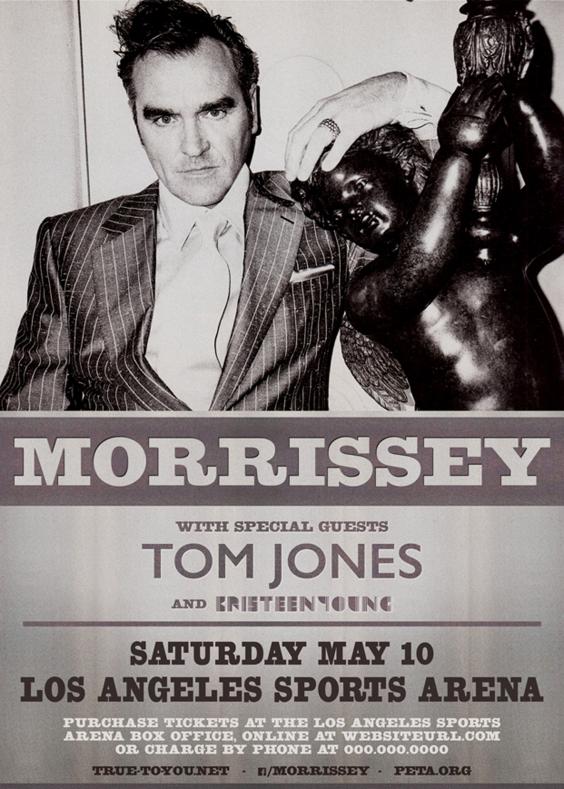 They have their political differences however. Sir Cliff, the first rocker to be knighted in 1995, was delighted to perform at the Queen's Diamond Jubilee concert in 2012. Only this week Morrissey attacked the "thickwit" Prince William for hunting wild boar and stags in Spain.
Sir Cliff, who eats turkey and chicken as part of his Blood Type diet will have to abide by Morrissey's "no meat" backstage strictures.
The pairing however offers Sir Cliff a late chance to break into the American market, a feat he still craves. Dismissed as an Elvis copyist in the early-60s, Richard never repeated his UK chart dominance across the Atlantic although Devil Woman made the US top 10 in 1976. Morrissey, who is making a comeback from serious illness and will release a new album this year, remains a huge live attraction across North America. The singers are believed to have bonded when they met at a hotel in Kent in 2011.
The pairing prompted widespread Twitter speculation. One tweeter predicted a seamless segue from Congratulations (Sir Cliff) into Margaret On The Guillotine (Morrissey). "I hope Cliff Richard does a cover of I Have Forgiven Jesus (a top 2004 top ten single for Morrissey)," wrote another.
Sir Tom, 73, a former friend of Elvis who ended a 42-year run of Las Vegas shows in 2012, confirmed his appearance. "I will be Morrissey Official's special guest at his show at the LA Sports Arena on May 10th," The Voice talent show just wrote on Facebook. "We hope to see you there."
The Cliff show was called "the oddest line-up in the history of gigs." However that honour may still be reserved for the 1987 London show in which Einstürzende Neubauten, the German industrial group which employed jackhammers to drill through stages, invited rockabilly revivalists Showaddywaddy to be their support act.
The concerts are Morrissey's first shows since being forced to cancel more than 40 dates after suffering a bleeding ulcer, Barrett's oesophagus and double pneumonia. Kristeen Young, a Missouri singer discovered by Morrissey, will join the legendary performers on both dates.
Earlier this week, Sunday Times writer AA Gill's caustic review of Morrissey's Autobiography was named the Hatchet Job of the Year.
Reuse content