The world is in the midst of an unprecedented boom in acoustic guitar playing thanks to the latest folk rock revival led by Mumford & Sons, the growing influence of YouTube and the rising prosperity in developing countries keen to emulate the west.
That's the verdict of Chris Martin, head acoustic guitar maker to the legends, Martin & Co, which over the decades has supplied high-quality strings to most of the stars, including Eric Clapton, Johnny Cash, Paul Simon, Paul McCartney and Elvis Presley.
Christian Frederick Martin IV, who has worked at the family business since college and run it for the past 25 years, said sales of his acoustic guitars are booming the world over - and his company provides probably the best global barometer we have in the absence of comprehensive sales figures.
Newer acoustic-loving artists such as Ed Sheeran, Mumford & Sons and Laura Marling as well as veterans including the Rolling Stones and Eric Clapton have put the UK at the centre of the boom, where Martin's distributor says the Nazareth, Pennsylvania-based guitar-maker is shifting more units than at any time in his 30 years in the game.
"It's the biggest boom I've ever seen with demand as high as I've ever known it. The world market has grown," said Mr Martin IV, the sixth generation to run the family business founded by Christian Frederick Martin Snr in 1833 after emigrating from Germany.
"We are making more guitars than ever, between the UK and America, a huge market in Japan and more prosperity around the world. As cultures become more westernised sales are soaring. In South Korea they have grown exponentially in the last ten years because people there want to emulate the western lifestyles. They're not playing South Korean music on them, they're playing folk music, western music.
"Thailand is another one. Years ago we'd maybe sell a handful. Now we are shipping a container every month or two," said Martin, adding that you can get 200 to 300 guitars in a container, depending on the model.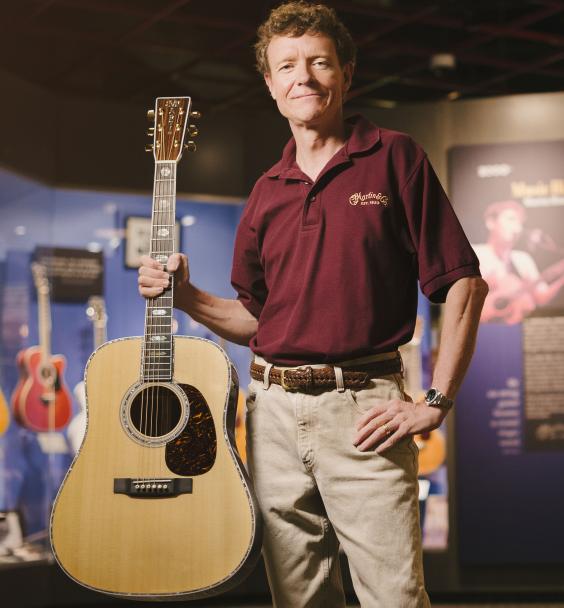 "We've been having another of those folk singer song writer things going on over the past two to three years, led by Mumford & Sons. This is bigger than the MTV Unplugged boom of the mid to late 80s, the folk rock boom of the 70s and the folk boom of the 60s," he declared. US bands such as The Lumineers and The Avett Brothers are also helping to fuel interest in folk, he said.
"There is a ukulele boom as well. They are easier to play with soft strings and they make very affordable ones in Asia. Part of it is YouTube, which has given it a lot of exposure. People have a go and film themselves. Someone finds it and says that does look like fun. People like to play communally."
Martin guitars have also been plucked by his namesake, Chris Martin of Coldplay, Sting, Mark Knopfler of Dire Straits and Joan Baez.
The US is the major global manufacturer of quality acoustic guitars and Martin now exports about 40 per cent of those it produces, up from a quarter a decade ago. Martin says he is "selling more than ever" in the growing US market, indicating that growth in international sales has been even higher.
"There is a recovery going on in America if you have a job – and not if you haven't. We are selling to people with jobs and we are selling more in America than ever before," Mr Martin said.
But while booming sales are a bonus for any company, Mr Martin has mixed feelings about his success.
"The boom is a blessing and a curse. As it becomes more popular we build more factories and cut down more trees," he said, referring to the environmental fallout from the acoustic guitar boom, which is using up valuable and rapidly-dwindling wood supplies.
"Earlier in my career these woods were plentiful, ten or twenty years ago there was just so much wood – but it's getting scarce," said Martin, who is concerned that the good wood is running out so fast that he will be unable to pass a viable business on to his eight-year-old daughter.
Mr Martin is part of a consortium of the world's most prestigious guitar makers – including Gibson and Taylor – that has been working with Greenpeace over the past eight years in an effort to preserve the threatened Alaskan forests that provide the timber for a crucial part of their instruments. At the current rates of cutting, they say, the Sitka spruce, in particular the older trees which are vital to the sound and performance of their guitars due to their superior tonal quality, could be gone within a decade.
The consortium is calling on the suppliers of the Sitka spruce, an extraordinarily strong, vibrant timber that is used for the sound boards of acoustic guitars, to apply for certification under the Forest Stewardship Council (FSC).
The FSC, founded by a coalition of environmental groups in the early 90s, wants forests to be managed according to the best scientific and environmental standards and for the timber to be managed on a sustainable basis.
The spruce used comes almost exclusively from the coastal temperate rainforest of south-east Alaska, where logging during the past 100 years has depleted stocks. According to an analysis by Greenpeace, more than 80 per cent of the timber is shipped to Asia, where it is used mainly to build homes.
The bulk of the remainder is used in the US for door and window frames, while a small - but fast-growing - portion goes to making guitars such as Martin's top-of-the-range D-45, which retails at about $11,000 (£6,790).
This is a significant increase on the $6,410 price tag of ten years ago, which can be largely accounted for by the rising cost of the increasingly scarce wood. The cost of a Sitka spruce guitar top has increased by 34 per cent since 1999.
The campaign has made progress but has yet to persuade Sealaska, a co-operative of Native Alaskans that controls the forestland, to sign up to the FSC.
Maxine Trump, a British film director living in Brooklyn, has made a documentary about the campaign called Musicwood. It played at the Raindance Film Festival in London last week and is likely to become more generally available.
She says that the campaign has done much to raise awareness of the issue, even if it has yet to achieve its original aim.
"When we first started making this film the FSC was unheard of in America and a lot of people had never heard of the Alaskan rainforest. Now we are seeing a lot more of the FSC symbol and people have a much greater awareness of the issues," she said.
"The Alaskan rainforest is mind-blowing, absolutely gorgeous. We're always hearing about Brazil, the Amazon, Papua New Guinea – we [in the US] have one right on our doorstep."
Reuse content