Mumford & Sons showcased almost their entire new album at an intimate London gig on Monday and will return for another at the same venue tonight.
The 375 people at Hackney's Oslo heard 11 tracks from Wilder Mind, not due for release until 4 May.
The album's first single, "Believe", was the only song other fans may have heard, after it debuted on Radio 1 earlier in the day.
It hints of things to come with a more electric sound, filled with synthesizers and electric guitars.
Frontman Marcus Mumford told the crowd they were "pretty lovely looking guinea pigs",before someone asked about the lack of the band's trademark banjos on their new material.
I wonder if Mumford & Sons going electric will be remembered in the same way as Dylan at the Newport Folk Festival?

— Jamie Fewery (@jamiefewery) March 10, 2015
"That's a good question, that's a fair question," Mumford replied, according to NME. "We don't really know, we'll get back to you on that one."
The move would not have come as a surprise to anyone who read member Winston Marshall's Vulture interview last year.
"I think 'killed' is an understatement," he said. "We murdered (the banjo). We let it, yeah — f*** the banjo. I f***ing hate the banjo."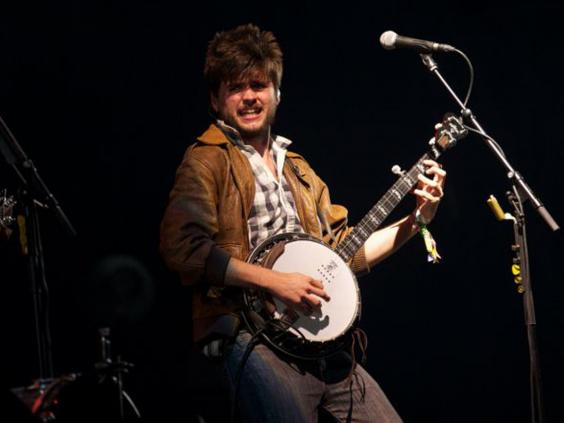 Last night he was firmly sticking to the guitar and here's what Twitter had to say about it from the haters...
Now that Mumford & Sons have gone all Coldplay, will Coldplay be returning the favour and plugging in the banjo for their next LP?

— Breaking More Waves (@BMWavesBlog) March 10, 2015
Really wanted to like the Mumford & Sons song as a troll but it's pretty boring and yes they are in fact Judases

— Andrew Griffin (@_andrew_griffin) March 10, 2015
I miss the banjo in mumford and sons :(

— macy (@macyconfetti) March 10, 2015
so glad mumford & sons decided to ditch the banjos and make terrible music with electric guitar instead

— RILEY (@RileyJohnSavage) March 2, 2015
I haven't listened to any of it but Mumford And Sons going electric does not sound cool.

— Hudson (@bruuuuuuhhhhhhh) March 2, 2015
...to the lovers...
Mumford & Sons were going to be damned if they changed, & damned if they didn't, but it sounds like they had fun in the studio & I like it.

— Richard Hughes (@Richard_H) March 9, 2015
I'm so ready for Mumford & Sons rock era (but yeah I'll miss the banjo)

— Charlene S. (@DustBowlFiddler) March 2, 2015
Mumford & Sons announcing a banjo-free album is seriously exciting news. No banjos! NO BANJOS! Ahhhhh... no banjos.

— Fiona McKinlay (@donkeyjacket45) March 2, 2015
Noah and the Whale fans were also treated to the sight of violinist Tom Hobden, who was on stage with Mumford & Sons on Monday.
"Believe" is the only song anyone not at the gig is likely to get their hands on at the moment, with the audience's phones being confiscated to ensure no one was recording or sharing the new tracks on the internet.
The only bright light around at @MumfordAndSons no phones gig at @OsloHackney last night #WilderMind pic.twitter.com/hc3KY2D56B

— Henry Whittingdale (@hwhittingdale) March 10, 2015
New songs played included "The Wolf", title track "Wilder Mind", "Monster" and "Snake Eyes".
Mumford & Sons were announced earlier this year as headliners for the Reading and Leeds festivals, alongside Metallica.
The British band previously appeared at the festivals in 2010, when they performed on the NME/BBC Radio 1 Stage.
Reuse content