Mumford & Sons have attacked Jay Z's new streaming service Tidal, describing the high-profile musicians behind it as "new school f**king plutocrats".
Frontman Marcus Mumford is so against the £19.99-per-month company promoted by the likes of Madonna, Kanye West and Rihanna, that he insists his band "wouldn't have joined it anyway, even if they had asked".
"I'm not into the tribalistic aspect of it – that's just commercial bulls**t," he told The Daily Beast. "We just want to play music and I don't want to align myself with Spotify, Beats, Tidal or whatever. We want people to listen to our music in their most comfortable way, and if they're not up for paying for it, I don't really care."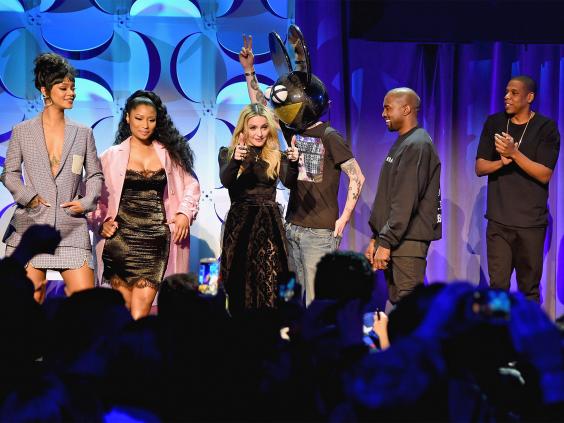 Mumford added that smaller bands should be paid more as bigger bands have other ways of making money, such as by touring. "A band of our size shouldn't be complaining," he said. "When they say it's artist-owned, it's owned by those rich, wealthy artists."
Guitarist Winston Marshall drew upon Taylor Swift's anti-Spotify stance, which the folk-pop group do not agree with either. "We don't want to be part of some Tidal 'streaming revolution', nor do I understand [Swift's] argument," he said.
"The focus is slightly missed. Music is changing, it's f**king changing. This is how people are going to listen to music now – streaming. So diversify as a band. It doesn't mean selling your songs to adverts."
Musicians against Spotify
Musicians against Spotify
1/10 Taylor Swift

Taylor Swift does not what her work to be used as an 'experiment' by Spotify and believes that artists are treated unfairly. She withdrew her entire catalogue in November 2014.

Getty Images

2/10 Thom Yorke

The Radiohead frontman famously described Spotify as 'the last desperate fart of a dying corpse' in October 2013.

Getty Images

3/10 David Byrne

David Byrne of Talking Heads wrote about not understanding Spotify's claim of discovery in a Guardian op-ed. 'The inevitable result would seem to be that the internet will suck the creative content out of the whole world until nothing is left,' he said.

Dan Burn-Forti

4/10 Beck

Beck dismissed the Spotify model as 'not working' because of how little it pays musicians. He added that the 'saddest thing' about streaming is the poor sound quality - 'It's like watching Citizen Kane on your phone'.

Rex Features

5/10 The Black Keys

Dan Auerbach has described Spotify's payment to artists as 'so minuscule it's laughable'. 'If you are a bigger band that's already known and you rely on record sales for a living then it's really no place to be,' he said.

6/10 Atoms for Peace

Thom Yorke's other band refused to let Spotify stream their songs. Nigel Godrich from the group described the service as 'an equation that just doesn't work'. 'Small labels and new artists can't even keep their lights on. It's just not right,' he said.

EPA

7/10 Yannis Philippakis

The Foals singer said he would rather that somebody stole his record on vinyl than bought it or streamed it on Spotify. He described using Spotify as like going to a top class restaurant and leaving only coppers without paying the bill.

Getty Images

8/10 Aimee Mann

The US singer-songwriter has not put her music on Spotify because she does not think artists make a fair amount of money from the streaming service.

Rex Features

9/10 Grizzly Bear

The band tweeted in 2012 that Spotify provides a great service for people but does as much to help bands as 'downloading from Limewire'.

Getty Images

10/10 Jason Isbell

Jason Isbell of Drive-By Truckers has used the single word 'evil' to describe Spotify.

Getty
Mumford backed up Marshall's comments by suggesting that small bands have a better opportunity in the music industry now than ever before, because their songs can be listened to worldwide without securing a record deal.
"It's democratized the music industry," he said. "So as much as it sucks and they need to figure out how to represent people fairly financially, you've never been able to get your music listened to more easily."
Mumford & Sons, whose third album Wilder Mind is released on 4 May, are by no means the first to criticise Tidal. Lily Allen recently said that although she "loves Jay Z so much", his service is too expensive and will lead to music fans "swarming back to pirate sites in droves".
The US rapper insists that Tidal is not intended as a direct rival to Spotify, but rather to "strike an honest blow" in shaping the future of the music industry to benefit artists, producers and others working on music.
Reuse content