Nicki Minaj has apologised, sort of, for using a famous image of Malcolm X carrying a gun as promotion for her explicit new track, "Lookin A** Ni**a".
"What seems to be the issue now? Do you have a problem with me referring to the people Malcolm X was ready to pull his gun out on as Lookin A** Ni***z?" the "Pound the Alarm" singer posted on Instagram, complete with a picture of her holding a rifle. "Well I apologize. That was never the official artwork nor is this an official single. This is a conversation. Not a single."
Set to feature on Minaj's forthcoming album The Pink Print, "Lookin A** N*gga" has been criticised for its relentless use of "ni**a" and controversial lines like "I'm rapin' you ni**as". The accompanying music video has caused offence for glamorising gun crime (scroll to watch the video).
 Minaj continued with an attempted explanation: "I am in the video shooting at "Lookin A** Ni***z" and there happened to be an iconic photo of Malcolm X ready to do the same thing for what he believed in!!!! It is no way to undermine his efforts and legacy.
"I apologize to the Malcolm X estate if the meaning of the photo was misconstrued. The word "ni**a" causes so much debate in our community while the "ni**a" behaviour gets praised and worship. Let's not. Apologies again to his family. I have nothing but respect an adoration for u" [sic].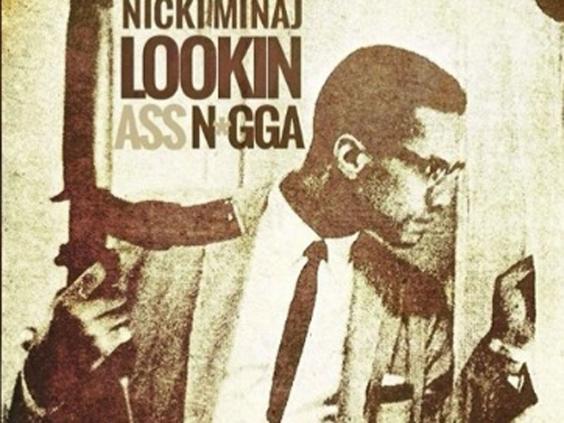 The US rapper added that the photo had been removed "hours ago" but it could still be seen on her website at the time. It has since disappeared.
Published in Ebony magazine in September 1964, the image of Malcolm X shows the black rights activist watching out for assassins five months before he was murdered.
Soon after the photo appeared on Minaj's website, Kevin Powell set up a petition calling on the singer, her record label Young Money Entertainment and Universal Music Group to stop "disrespecting Malcolm X, Black History and Black People".
A statement on Change.org reads: "Malcolm X carried a gun as he feared for the safety of his family and himself, and was aware he would someday be killed by political opponents. The image of Malcolm X looking out of the window highlighted that fear.
"Nicki Minaj's use of guns in her new music video speaks to the gun culture in our society today where gun violence is an acceptable norm. To call this unacceptable is a gross understatement. The artwork needs to go, as well as any association with Malcolm X and Black History."