It's been a couple of rocky weeks for Directioners after Zayn Malik left the pop group last month.
Now in their first interview since Zayn's departure the band have admitted that they are "gutted" about losing him but have vowed to "carry on stronger than ever".
Speaking in Dubai as they embarked on the Middle East leg of their On The Road Again Tour, band member Liam Payne said that the past fortnight had "probably the toughest" since One Direction was formed five years ago for X Factor. 
"We're gutted that Zayn chose to leave, but now after a few performances as a four piece, we're feeling confident and are determined to carry on stronger than ever," Liam told The Sun.
While Louis Tomlinson added that the remaining members were a "100 per cent committed to staying in One Direction", saying that the band have "so much more we still want to achieve".
In pictures: Zayn Malik
In pictures: Zayn Malik
1/15 2010

Zayn performed Mario's 'Let Me Love You' in his audition in front of the X Factor judges

2/15 2010

December 2010: Zayn (second right) and his bandmates ahead of the X Factor final

Getty Images

3/15 2011

Zayn performing in Germany on tour with the band's first album, 'Up All Night'

REX

4/15 2011

Zayn Malik made it his New Year's resolution to quit smoking to improve his voice after being criticised by One Direction's management team

REX

5/15 2012

February 2012: One Direction pick up the British Single award for their song featuring Rizzle Kicks 'What Makes You Beautiful', at the Brits

Getty Images

6/15 2012

The band perform on NBC's 'Today' show as they look to crack America

Getty Images

7/15 2013

Zayn getting inked in Weymouth. The singer likes "getting tattoos and loves the whole culture behind them"

Rex

8/15 2013

August 2013: Zayn gets engaged to Perrie Edwards, a singer with the group Little Mix

Rex Features

9/15 2013

Zayn signing promotional material at Alexandra Palace following the release of One Direction's book 'Where We Are'

REX

10/15 2013

Zayn Malik and Harry Styles from One Direction attend the 'One Direction This Is Us' world premiere at the Empire Leicester Square

Getty Images

11/15 2014

February 2014: One Direction win for British Video and Global Success at the Brit awards

Getty Images

12/15 2014

May 2014: a video of Zayn Malik and his fellow bandmate Louis Tomlinson smoking a "suspicious-looking cigarette" was leaked online

Rex

13/15 2015

19 March 2015: Zayn and bandmate Louis Tomlinson are told to post bonds of $5,000 each before they are allowed to take to the stage for a scheduled One Direction performance in Manila

Getty Images

14/15 2015

20 March 2015: Zayn flies home from One Direction's World Tour due to stress

Getty Images

15/15 2015

25 March 2015: Zayn becomes the first member to leave One Direction. 'I have to do what feels right in my heart,' he says

Getty Images
Last week Niall Horan revealed that the group were already working on the new and as yet untitled album. He broke the news to his 21.9 million followers on Twitter, "Had a sit down last night with the label, started organising our writing sessions for the next album! F**k yeaaaahhhh! Can't wait!"
Zayn left One Direction on 25 March this year after initially being signed off for stress for a week mid-way through the tour.
In a statement at the time he said. "I feel like I'm doing what's right — right by myself and right by the boys, so I feel good."
He admitted that he "wasn't happy" for a while but was continuing for the sake of the group.
"It's not that I've turned my back on them or anything, it's just that I just can't do that anymore because it's not real to me," he explained.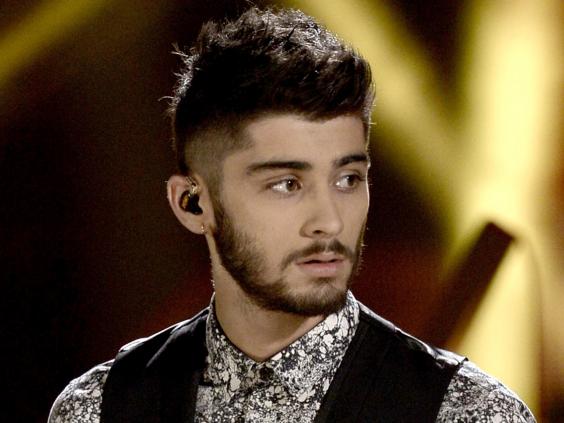 Zayn released his first solo single "I Won't Mind" earlier this week. The track was produced by Naughty Boy, who shared it on Soundcloud with the message "let the music do the talking. there is nothing but love for what was left behind. thats why we don't mind. ;) #2016 #zaughty #zindabad".
"I Won't Mind" got a mixed reaction on social media with some people praising it while 1D fans called for Zayn to return to the boy band.
But Directioners should not lose hope. The 22-year-old singer indicated that the door has been left open for him if he wants go back to the band in the future.
Reuse content