One Direction fans might soon be left bewildered when a new reincarnation of their beloved pop group steals the limelight. Meet the cast of The One Direction Story, an upcoming West End musical about the chart-toppers' epic rise to global fame.
Tribute band Only One Direction formed in 2012 and is compiled of 20 singers who take it turns to perform as the teenage heartthrobs. Five members of this gang - yes, Zayn is making a comeback - have been picked for the production and the first photos of them have been released.
Matthew Maguire isn't the worst Harry Styles lookalike out there with his red bandanna and floppy mop, but whether Matt Ryan will convince any Directioners that he's the spit of Louis Tomlinson remains in serious doubt. Next up you have Henry Allen as an equally dubious Liam Payne, Matt Brinkler as Irish boy Niall Horan (the blonde hair is there but not a lot else) and Jamie Searls as prodigal son Zayn Malik.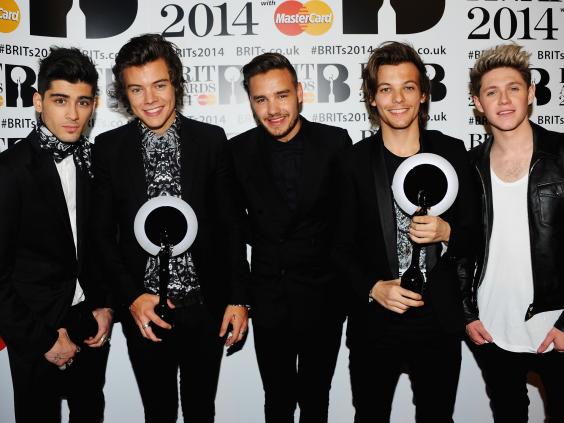 "They've tried to get rid of me but I've stayed," said Searls. "They're not getting rid of me that easily. We like to keep it as a five piece, it's a bit of nostalgia for One Direction fans. While they can't get Zayn on the real tour, they can get Zayn in the West End."
Only One Direction have had a small taste of life in the world's biggest boyband, touring Dubai malls, performing a string of gigs across the UK and playing for 10,000 festival-goers.
The musical will run for two days and nights at the Lyric Theatre on Shaftsbury Avenue from 24-28 October, with the story following the past five years of One Direction and featuring 21 of the biggest hits. It's a "perfect family-friendly show and pop concert all in one", apparently. 
Only One Direction will likely be preparing themselves to field the wrath of Directioners, who are not known for taking kindly to anyone willing to rival their worshipped originals.
Earlier this year, tribute band One and Only Direction were targeted by angry fans on Twitter using the hashtag #STOPyouarenot1D.
when you ask your mom for gucci and she bring home some $1 lookalike #STOPyouarenot1D pic.twitter.com/L7ORBaSJIg

— trash blogger (@romancezjm) January 5, 2015
If you think that wouldn't be terrifying, have a flick through some of the things Directioners actually say on social media:
1D: Crazy things Directioners say
1D: Crazy things Directioners say
1/20 One Direction

'I'm so jealous of everyone that meets One Direction. Then again if I met Harry I would hyperventilate, suffocate and die so...' - @m_a_g_z_i_e

2/20 One Direction

'If I ever received a tweet from anyone in One Direction I'd literally die on the spot and I want my obituary and tombstone to blame them.' - @aurosan

3/20 One Direction

'When I die, I want the One Direction 'Talk Dirty to Me' video displayed at my funeral, on a screen projected over my casket, playing non stop, thank you.' - @zaynlikespayne

4/20 One Direction

'I cannot speak I want to write the word 'love' everywhere and tell everyone I love One Direction more than anything ever.' - @sneezeharrys

5/20 One Direction

'I'm in the 'I'm gonna die alone with 8 cats and my posters of One Direction don't breath near me or I'll punch you' mood.' - @nouisteenagers

6/20 One Direction

'HARRY. YOU ARE NOT A GOD DAMN MAN WHORE. YOU ARE A CUPCAKE. JESUS.' - @daddyslittlelou

7/20 One Direction

When 1D were on the cover of GQ magazine: 'The GQ pictures make me want to stab myself in the uterus!' - @ziallsafari

8/20 One Direction

'I hope that I die before any of the boys in One Direction does cause I will not be able to even move if they go before I do.' - @pokeniall

9/20 One Direction

Another GQ response read: 'Holy. C**p. The boys on the cover of GQ magazine. Someone shoot me. Push me off a cliff. Stab me!' - @wafaastalks

10/20 One Direction

'Person: Why do you love One Direction? Me: Why do you breathe? Person: If I didn't I'd die. Me: Exactly.' - @idrugsharry

11/20 One Direction

'Don't hate on Louis you f**king a******s or I will shove bleach into your a******s and pull out your eyes with a spork.' - @fxkinlouis

12/20 One Direction

'When are you in public and a One Direction song comes on and your kidneys rupture and then you die.' - @harryhasbooty

13/20 One Direction

'If One Direction were falling off a cliff and I could only save one then I'd shoot myself so we could all die and meet in heaven' - @austinrahone

14/20 One Direction

''One Direction is goin' to be the next to break up'. If you don't shut up I will break your neck and pray for you to die.' - @bubblegumniall

15/20 One Direction

'My friend doesn't like One Direction and I told her that if she said something rude on Twitter she would die.' - @flashing1D

16/20 One Direction

'Do you ever feel like you want to scream and cry and laugh and smile and die because of One Direction. Because same.' - @chenloves1d

17/20 One Direction

'When Niall cuddles someone or something and his cheeks do the thing I die.' - @daintyiero

18/20 One Direction

'My parents always say 'They're gonna die down' and 'You'll grow out of them'. No f**k you I'm getting One Direction tattooed across my face.' - @calumshoran

19/20 One Direction

'Dear One Direction, you stole my heart but that's okay. I like my boys like I like my tea - hot and British with some Irish creme.' - @torii_rakusx

20/20 One Direction

'Imagine Niall barging into the church and saying 'I OBJECT' to your marriage because he loves you.' - @niamhabitat
Despite this warning, the boys aren't too worried. "We're not lookalikes, we're not impersonators, so I don't think they have any reason to be angry," Matt said, adding that he met the real deal a few years ago and discussed the possibility of a musical. 
"He said, 'There's a show about us? Already?' but I think the last five years have been crazy, they've been so intense that there's enough people out there to want to see a show about their lives and their music."
One Direction go on hiatus next March, so Only One Direction could be exactly what fans need to tide them over. They might just need to squint.
Reuse content