Two members of Pussy Riot took to a New York stage during a star-studded Amnesty International concert on Wednesday evening to call for the release of anti-government prisoners, ahead of the Russian opening ceremony for the Sochi 2014 Winter Olympics.
"We demand a Russia that is free and a Russia without Putin," Pussy Riot's Nadezhda Tolokonnikova told the crowd after being introduced at Amnesty International's "Bringing Human Rights Home" concert by the pop star Madonna.
Tolokonnikova, alongside fellow band members Maria Alyokhina and Yekaterina Samutsevich, had been found guilty of hooliganism motivated by religious hatred after performing a protest song highly critical of Russian President Vladimir Putin in Moscow's main cathedral.
They were released from prison following an amnesty from the government, having served 18 months of their two-year sentences.
Tolokonnikova and Alyokhina also met with Samantha Power, the US Ambassador to the United Nations before speaking at the concert.
Power and the two band members discussed "the disturbing trend in (Russia) of legislation, prosecutions and government actions aimed at suppressing dissent and pressuring groups that advocate for fundamental human rights and basic government accountability," Power's deputy spokesman Kurtis Cooper said.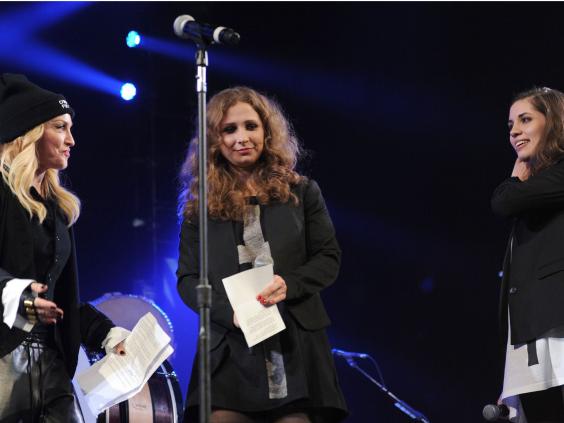 At the concert, the pair brought attention to eight Russian demonstrators who will be sentenced later this month after being charged with mass disorder at a 2012 protest against Putin.
At the same news conference, Alyokhina said she absolutely did not regret the performance that landed her in prison and said there was no question but that she would continue to live in Russia.
Of Putin, she said: "We want to say to him, 'leave,'".
The pair also denied rumors about Pussy Riot's demise.
"Anybody can be Pussy Riot. You just need to put on a mask and stage an act of protest in your particular country," Alyokhina said. "We are just two individuals that spent two years in jail for taking part in a Pussy Riot protest action."
Their call came as Moscow faced increasing pressure from the West in the months leading up to the Games over their intolerance of political dissent and gay propaganda laws. 
While Pussy Riot did not perform, R&B singer Lauryn Hill, Blondie, and the alternative rock groups Imagine Dragons and Cake played at the all-star concert at a packed Barclays Center in Brooklyn.
In pictures: Last members of Pussy Riot are freed
In pictures: Last members of Pussy Riot are freed
1/9 Russian TV images showed Nadezhda Tolokonnikova after she had been released

Twitter/Free Pussy Riot

2/9 Ms Tolokonnikova, seen here leaving prison, was reported to have shouted 'Russia without Putin' as she was set free

Twitter/Free Pussy Riot

3/9 One of the first things she did was phone her friend and fellow jailed Pussy Riot member Maria Alyokhina

Twitter/Free Pussy Riot

4/9 Maria Alyokhina, the Pussy Riot member who was released under an amnesty earlier today, speaks on the phone to denounce her newfound freedom as a 'PR stunt'

Facebook/Комитет Против Пыток

5/9 Ms Alyokhina said she would have rejected the amnesty and stayed in prison if she could

Facebook/Комитет Против Пыток

6/9 Ms Alyokhina, seen here enjoying her freedom and speaking to Ms Tolokonnikova

Twitter/Free Pussy Riot

7/9 The group has been at the centre of intense media focus, and say they want to highlight the increasingly strong ties between church and state

Facebook/Комитет Против Пыток

8/9 The Pussy Riot members accused the government of only freeing them as a public relations exercise ahead of the Sochi Winter Olympics

Facebook/Комитет Против Пыток

9/9 Ms Alyokhina said she would spend her time out of prison dedicated to helping others fight human rights violations

Facebook/Комитет Против Пыток
Additional reporting by Reuters
Reuse content