The Beatles' "mini movies" - the precursors of today's pop videos – have been compiled for a new DVD release which includes rare footage of the band at work and play.
Pioneers of the promotional video, a vital tool allowing the band to reach a global television audience, The Beatles have approved the commercial release of 50 of their groundbreaking films.
The Beatles 1+ CD and DVD package includes footage of the Fab Four playing Paperback Writer in Chiswick Park, west London, and Hey Jude, recorded at Twickenham Film Studios for broadcast on David Frost's television show, Frost on Sunday.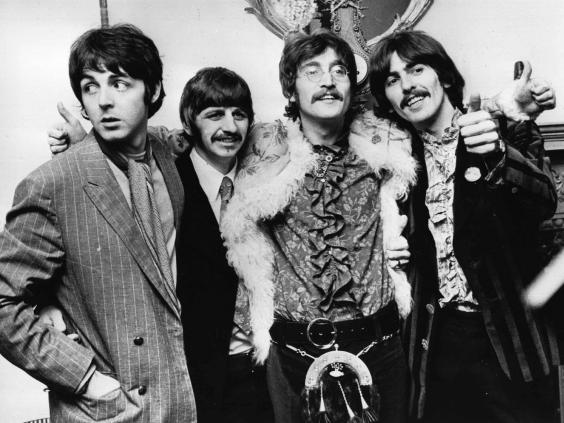 The release follows extensive research and restoration of the original promo films and classic television appearances by Apple Corp, guardian of the Beatles' legacy.
An 18-person team of film and video technicians and restoration artists undertook painstaking frame-by-frame cleaning, colour-grading, digital enhancement and new edits of the films, chosen for their rarity, historical significance and the quality of the band's performance.
Many of the films and videos have not previously been commercially released. The footage was scanned in high-def 4K and the audio restored from the original analogue tapes at Abbey Road Studios by Giles Martin, son of legendary producer, Sir George.
The Beatles' original lyric sheets
The Beatles' original lyric sheets
1/5 Original lyrics for In My Life

This originated with a long poem by John about his life, at a time when they were vaguely thinking of writing an album about their childhood. (rosie.marsh@flint-pr.com/ The British Library)

2/5 Original lyrics for Hard Days Night

Maureen Cleeve of the London Evening Standard: "I said to him that I thought one line of the song was rather feeble. It originally said: 'But when I get home to you, I find my tiredness is through, then I feel all right'. Seizing my pen, John immediately changed the second line of it and came up with the slightly suggestive: 'I find the things that you do, will make me feel all right'."

3/5 Original lyrics for Help

Lennon uses some rather long words, not normally found in pop songs – such as "self-assured", "appreciate", "independence", "insecure" – one result, apparently, of Maureen Cleave teasing him that all Beatles songs seemed to be filled with one-syllable words. (The British Library)

4/5 Original lyrics for Yesterday

It was during a long car-drive while on holiday in Portugal with Jane [Asher] in May 1965, after they had started recording the Help! album, that McCartney finally put some proper words to it. After fitting "Yesterday" to the first three notes he needed a rhyme, and came up with "all my troubles seemed so far away". (The British Library)

5/5 Original lyrics for A Day in the Life

Inspiration for the lyrics came from John Lennon lying around at home, fairly aimless, reading the papers, scribbling notes, tinkling on the piano, picking up on three stories – two from the newspapers, and one from his own life.
"These videos and films are spectacular reminders of the era we lived in. They also rock!", said Sir Paul McCartney, who provides an audio commentary on the DVD.
Ringo Starr added: "I think it's really interesting to see the videos we made, some of them incredible and some of them really incredible. How else would we have got to sit on a horse?"
The updated version of the Beatles' 1 compilation, originally released in 2000 and which features the band's 27 No.1 UK and US singles, is released on November 6.
Reuse content