Fans of The Stone Roses are psyching themselves up for a ticket scramble on Friday morning as they battle to see the band play three UK stadium dates next summer.
Ian Brown will be bringing his Manchester quartet to Belfast, London and Glasgow in June, with tickets going on sale at 9.30am. 
The group's show at Wembley Stadium will mark their first performance in the capital for four years, following their long-awaited reunion in 2012.
Earlier this year, The Stone Roses played to over 240,000 people at four hometown gigs, before headlining T in the Park and performing to a sold-out Madison Square Garden in New York.
Speculation has been rife that the band could be booked to headline Glastonbury Festival, which runs from 21 to 25 June, given the suspicious gap in their schedule, but this remains unconfirmed, as does reports that a new album will be released shortly before the tour.
Best Band Reunions
Best Band Reunions
1/11 The Libertines, 2014

Pete Doherty with Carl Barat at The Libertines' reunion gig in Hyde Park

Getty Images

2/11 Fleetwood Mac, 2013

The Sixties rock band reunited for a world tour in 2013 following rumours that had been circulating since 2008. Christine McVie joined the band on stage for their London shows, and announced in January 2014 that she would rejoin the band for good

Polaris

3/11 Blur, 2008

The Britpop band announced their reunion in 2008 with a concert in London's Hyde Park. They later went on to headline Glastonbury that summer. Damon Albarn recently released solo material, but said the band will continue together

4/11 Outkast, 2014

The hip hop duo announced they would be headlining Coachella 2014 as part of their comeback to celebrate their 20th anniversary

Getty Images

5/11 S Club 7, 2014

S Club 7 reunited for a Children in Need performance before announcing a 2015 arena tour

BBC

6/11 Black Sabbath, 2012

Black Sabbath reunited in 2012 at the O2 Academy in Birmingham, marking the band's first concert together since 2005. Drummer Bill Ward said he would not join the reunion until he was given a 'signable contract'

7/11 My Bloody Valentine, 2008

Irish alternative rock band My Bloody Valentine reunited for a world tour in 2008, over ten years since their split following a successful 20 year career

8/11 Rage Against the Machine, 2007

Rap metal band RATM reunited to headline Coachella in 2007. The reunion was described by guitarist Morello as a vehicle to voice the band's opposition to the 'right wing purgatory' of George W Bush's presidency

Getty Images

9/11 Led Zeppelin, 2007

Led Zeppelin reunited to headline a benefit concert in London's 02 in 2007, marking the band's first full concert since the death of drummer John Bonham in 1980

Rex Features

10/11 Pixies, 2004

The alternative rock band reunited ten years after their split to sell-out tours at London's Brixton Academy. The dates became the fastest-selling in the venue's history

Getty Images

11/11 Blink 182, 2009

Four years after announcing their 'indefinite hiatus', the band returned with force. 'To put it simply, we're back. We mean, really back. Picking up where we left off and then some. In the studio writing and recording a new album,' they said on their website.

Getty Images
For now, it's time to focus on securing your spot at one of these big gigs:
Tuesday 13 June - Belfast SSE Arena
Saturday 17 June - London Wembley Stadium
Saturday 24 June - Glasgow Hampden Park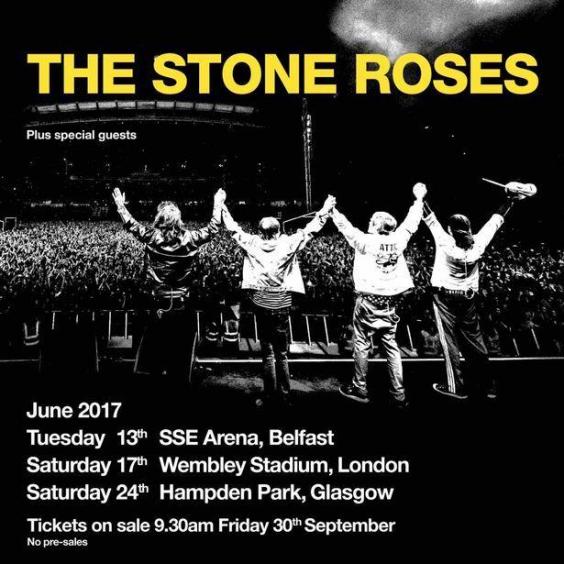 Got sweaty palms already? Check out our handy tips for dealing with the demand:
1) Make sure you are ready and waiting with the web page up at least five minutes before 9am. 
2) Do not let your computer, phone or whatever device holds the key to your happiness run out of battery. 
3) Register your details with the website you are booking from in advance, if you can, but don't panic if you haven't left enough time as your tickets will be held while you fill out your information
4) Check how many tickets you are allowed to buy in one purchase. If you try to buy more than the limited number, your booking may be cancelled without notice, meaning no-one gets to go.
5) Get your friends to try too, but stay in contact in case you all succeed and end up with a bunch of tickets you didn't want. If you do need to sell any on, do so at face value. No-one likes a tout.
6) Be patient and avoid refreshing or switching between browsers. Stick with one tab and have some faith! Be prepared to wait for an hour to get tickets
Reuse content