Madonna has rushed to defend Jay Z's new streaming service Tidal, insisting it is "not about consumption and greed".
The "Living For Love" singer attended the relaunch of the first major artist-owned platform earlier this week, where she signed a co-ownership declaration alongside the likes of Beyoncé, Rihanna, Kanye West, Daft Punk, Deadmau5, Calvin Harris and Nicki Minaj.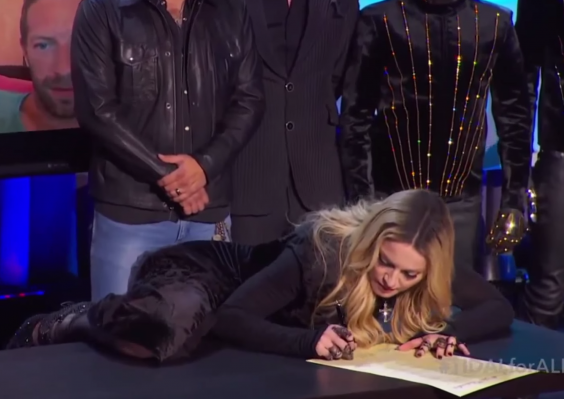 Fans quickly began criticising the multi-millionaire stars for seeking even more money from the public, rather than coming together for a more selfless cause. Many of the artists involved turned their Twitter profile photos blue to raise awareness of the venture.
I legit thought #TIDALforALL was some sort of save the world campaign, not a streaming service to make millionaire artists richer.

— Daniel Paul Baptista (@dbapz) March 31, 2015
These artists can end world hunger in a day but instead they make an app to get richer #TIDALforALL

— Kerri (@JoviHarmonizer) March 30, 2015
But Madonna soon hit back at the flood of Twitter complaints, writing on Instagram that Tidal is "about protecting an art form that is beloved to all of us – music".
The 56-year-old also brushed off online conspiracies suggesting that Tidal is part of the Iluminati, telling fans to "have faith" as "everything will be explained and revealed in time".
"Remember nothing is for free! This is a universal law. Somewhere, somehow, someone has to pay. There is always an exchange," she said.
Jay Z has described Tidal as a bid to "strike an honest blow" and shape the future of the music industry, rather than present a direct rival to Spotify.
"We didn't like the direction music was going and thought maybe we could get in and strike an honest blow and if, you know, the very least we did was make people wake up and try to improve the free versus paid system and promote fair trade, then it would be a win for us," the rapper told Billboard.
Highest earning hip-hop artists
Highest earning hip-hop artists
1/9 2. P Diddy - $60m

P Diddy's earnings came from a number of commercial deals including agreements with Diageo's Ciroc vodka, De Leon tequila and Sean Jean clothing

2/9 3. Jay Z - $60m

Unlike Dr Dre and P Diddy, Jay Z's earnings did come from musical projects thanks to his 'On The Run' tour and his growing Roc Nation empire

Getty Images

3/9 4. Drake - $33m

Drake made his money through sales of his latest album, a concert arena tour and endorsement deals with Nike

Stephen Lovekin/Getty Images

4/9 5. Macklemore & Ryan Lewis - $32m

The hip-hop duo were rewarded for their Grammy wins with good concert and album sales that helped them earn the number five slot on Forbes' list

Getty Images

5/9 6. Kanye West - $30m

Kaney's tour coupled with his marriage to Kim Kardashian translated into good figures for the self-confessed 'Yeezus'

Getty Images

6/9 7. Birdman - $24 million

The Cash Money co-chief continued to earn good money through his record label

7/9 8. Lil Wayne - $23 million

The rapper saw his earnings increase by 50 per cent from 2012/2013 thanks to playing 56 shows

8/9 9. Pharrell Williams - $22m

Williams has seen a huge boost to his career thanks to summer hits 'Get Lucky', 'Blurred Lines' and 'Happy'. His fashion venture also helped him enter Forbes' top 10

Kevin Winter/Getty

9/9 10. Eminem - $18m

Emimen claims a spot in the top 10 thanks to a handful of lucrative tour dates and sales from his latest album. He is also said to claim good sales from his back catalogue

PA
Tidal will cost £20 for high quality audio and video and £10 for standard quality per month. Exclusive content and experiences for subscribers have been promised by the artists.
Reuse content