Their free iTunes album release might have played a part in Apple's "PR disaster", but U2 are determined to storm through the backlash with a 2015 arena tour.
The Irish band will bring Songs of Innocence to venues including London's O2 next year, frontman Bono has confirmed.
"It's exciting," he told Absolute Radio. "We'll be coming your way and these songs are the songs that, I think, will play themselves.
"Only if the songs are great can you bear leaving home. We all have families and mates, so you're looking for eleven good reasons to leave home and I think we've got them."
The album is set for an official release on 13 October, after 500 million iTunes users received it as a gift earlier this month to coincide with the much-maligned launch of Apple's iPhone 6.
In pictures: iPhone 6 goes on sale
In pictures: iPhone 6 goes on sale
1/12 Japan

Blue T-shirt-clad staff open the door of the Apple Store for a few hundred people waiting outside in this upscale Tokyo neighborhood of Omotesando for the long-awaited new pair of iPhones - iPhone 6 and its larger variant iPhone 6 Plus Iphone 6 Launch in Tokyo

2/12 Japan

Ken Miyauchi, left, vice president of Softbank, Japanese mobile phone company hugs the first customer of iPhone 6 during a ceremony to mark the first day of sales of the new Apple iPhone 6 and 6 Plus at a store in Tokyo

3/12 UK

A member of the public celebrates at the launch of the iPhone 6 at the Apple store Covent Garden in London

4/12 USA

Joseph Cruz (R) shows his phone to Moon Ray (C) an another man while waiting in line for the iPhone 6 to go on sale outside the Apple store on Fifth Avenue in New York City

5/12 France

Customer Sylvain leaves an Apple store with boxes as the new iPhone 6 goes on sale in Paris

6/12 Germany

Sales assistants prepare new Apple iPhone 6 phones and other Apple products at the Apple Store on the first day of sales of the new phone in Berlin

7/12 Germany

First customer Max, 20, jumps in joy with new mobile phones in his hands during the launch of the Apple iPhone 6 sale at a store in Oberhausen

8/12 Germany

People prepare to enter the Apple Store at 8am on the first day of sales of the new Apple iPhone 6 in Berlin

9/12 Singapore

Singaporean law student Bjorn Tan (L) takes a self photograph with his mother Wendy Heng (R) with his newly purchased iPhone 6 during its launch by Singtel, Singapore telecommunication company

10/12 China

Customers look at the new iPhones on display at the launch of the new Apple iPhone 6 and iphone 6 plus at the Apple IFC store in Hong Kong

11/12 Australia

Customers wait in line to purchase the new iPhone 6 and iPhone 6 Plus models as they go on sale at the Apple store in Sydney

12/12 Australia

Customers inspect iPhone 6 acessories at a Telstra Store in Sydney
Many music fans were angered at the decision to install Songs of Innocence directly into subscribers' iTunes libraries, but Bono has since admitted that it was meant to "stir things up and annoy people".
Rapper Tyler, the Creator, went so far as to describe automatically receiving the free album as "like waking up with a pimple or like a herpes".
Hey gang, I'm going as the free U2 album for Halloween. I'll show up everywhere, uninvited

— michael (@michaeljhudson) September 23, 2014
But Bono insists the 11-track album is "mindblowing" and "the most personal album" his group have written to date.
iTunes describes Songs of Innocence as "rooted in the band's early and lifelong influences including The Ramones, Bob Dylan and The Clash".
One song, "Iris (Hold Me Close) is a "beautiful homage to Bono's mother", with other tracks including "Raised by Wolves" and "Volcano".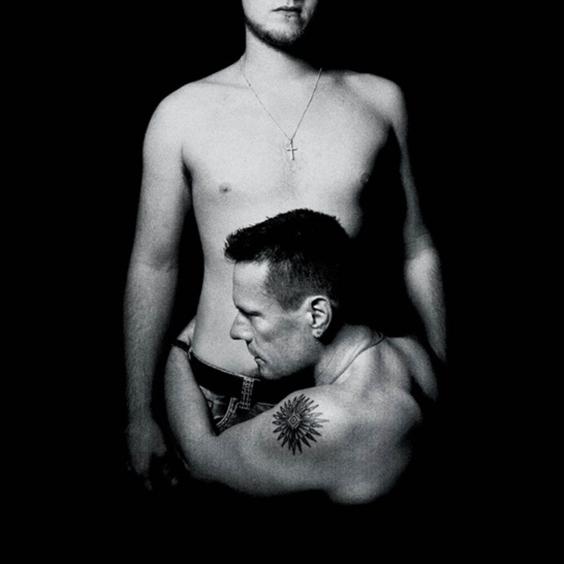 Others were excited by the freebie, which came five years after U2's twelfth album No Line on the Horizon.
A follow-up album, Songs of Experience, is also in the pipeline and might even be released before the next tour begins.
Reports suggest that once again, it will be used to launch a new "interactive format for music" that has been developed with Apple. U2 first partnered with Apple for the U2-branded iPod in 2004.
Independent Partners; Click here to purchase tickets for the U2 tour from Viagogo
Reuse content