Wu-Tang Clan have rallied all of its nine members together for a performance on political satire programme The Daily Show.
Last night, host John Stewart introduced the legendary hip hop group, who performed the song Ron O'Neal from their new album, A Better Tomorrow.
Scroll down to see video
Squeezed around Stewart's table, the group – comprised of Method Man, Raekwon, U-God, Inspectah Deck, GZA, RZA, Ghostface Killah, Masta Killa, and Cappadonna – used their appearance on the show to reveal that the latest LP will be released in November.
The collective finished their rousing set on The Daily Show with a performance of their 1997 hit Triumph.
They posted a number of behind-the-scenes pictures of their rehearsal on their official website and gave middle class America's favourite funnyman Stewart, a big hug backstage.
Earlier this year, the group said they were putting out an album with a restriction on how many it could sell - the limit was set at one.
The 31-track Once Upon A Time In Shaolin will be sold as a collector's item, in a campaign against mass production and "disposable creativity."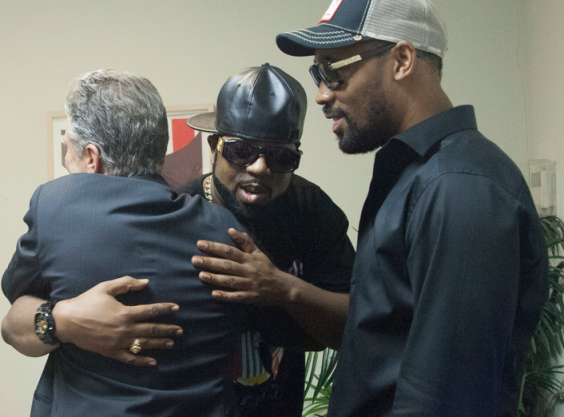 The album's website states: "The music will only ever have one incarnation. It will not be made available digitally or in any other existing mass format.
"After touring the album at festivals, museums, exhibition spaces and galleries for the public as a one off experience, it will be sold exclusively to one buyer."
RZA told Forbes: "We're about to put out a piece of art like nobody else has done in the history of [modern] music.
"We're making a single-sale collector's item, this is like somebody having the sceptre of an Egyptian king," he added.
Reuse content