A branch of Tesco in Reading has gone that extra mile to make sure it meets the demands of festival revellers this year, as the first of 90,000 festival-goers are expected to arrive tomorrow.
Pictures of shelves stacked wall to wall with beers and spirits have been circulating on social media the day before the Reading Festival campsite opens to Early Bird ticket holders on Wednesday.
Timothy Jeffcoat, a Reading resident who lives close to the Richfield Avenue festival site, said about four aisles at the West Extra store are currently stocked with alcohol ahead of the tens of thousands due to descend on the town.
He told The Independent salad baskets have been filled with Jagermeister and potato boxes are now home to bottles of vodka.
"The store is chaos during the festival, and if it's wet, it gets really trashed too."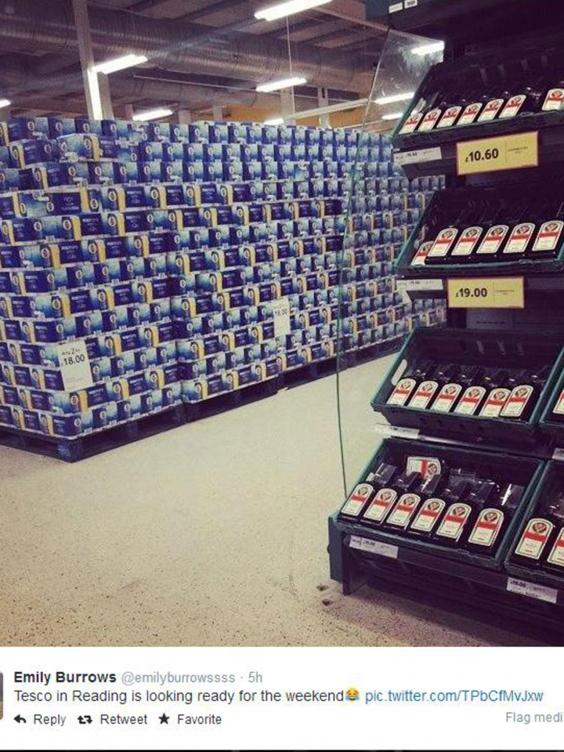 A spokesperson for Tesco said it is expecting to serve 35,000 customers each day from festival goers buying supplies before heading to the camp site.
He said: "We know from previous years just how important our store is to those attending the festival and we're working really hard to make sure we've got everything they need, including food, wellies, tents and bedding. We'll continue to stock everything our regular customers need for their normal weekly shop."
Reading festival officially kicks off on Friday with Blink 182, Artic Monkeys and Queens of the Stone Age headlining. The sell-out event draws thousands of people each day across ten stages at the 191-acre site.
Campers can also look forward to films being played until 4am, with food and drink available until the same time.
However, campers are advised to pack their wellies and waterproofs as this year's festival look set to be a muddy one. Initial weather forecasts are predicting a mixture of cloud and rain across Friday, Saturday and Sunday, with some spots of sun breaking through occasionally.
Reuse content