Disclosure, Apple Music Festival, review: Brothers try to elevate DJ set into thrilling watch
3
Click to follow
The Independent Culture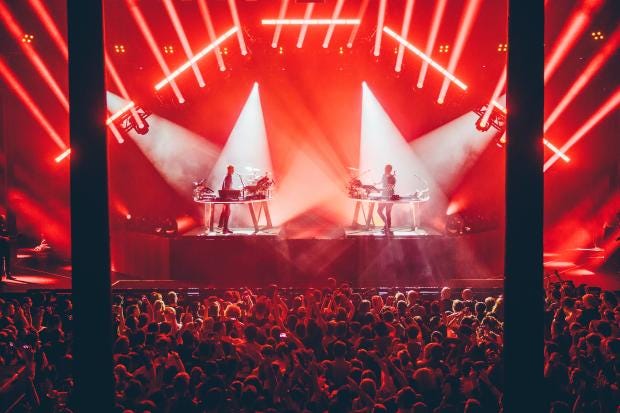 At the age of just 21 and 24, it's hard to believe brothers Howard and Guy Lawrence have had such an impact on the electro-dance-house scene in two years. So well known are their base line mixes, that even older brother Guy admitted recently they were growing tired of their own sound.
Two years after the commercial success of Disclosure's album Settle, made famous by their Sam Smith collaboration "Latch", the synth-pop duo timed their Apple Music Festival performance to coincide with the release of their latest album, Caracal.
Hearing many of its songs performed live for the first time tonight, the album appears to lack the heavyweight tunes of Settle. But the duo are clearly trying to move into a different space, away from the likes of Years & Years and Rudimental. "Melting Madness" featuring Lorde is one of the more chart-worthy tracks, performed with dramatic red back lighting. But although she's not present on stage, it's Lorde's vocals that carry the performance. 
Disclosure give it their all but it's hard to elevate the DJ set into a thrilling watch. Even when special guest Kwabs is brought out on stage to perform soulful new track "Willing and Able" it fails to spark excitement from the audience.
Reuse content
Comments