Despite its title, Compton is not a film soundtrack, but rather, according to Dr Dre, an album "inspired by" the forthcoming NWA biopic Straight Outta Compton – which lends an intriguing, immodest circularity to the matter of artistic influence. Many's the performer, I imagine, who has wanted to stand up at a showbiz awards ceremony, grasping their trophy, and instead of earnestly trotting out a corporate litany of thank-yous just shout proudly, "I did it all myself!" – which is effectively what Dre has the opportunity to do here.
And not a moment too soon, either. Dre's eye has been off the ball as his core business shifted to hardware. We've waited years, whilst he amassed millions flogging ugly headphones and getting into bed with Apple, for him to release an adequate follow-up to The Chronic and 2001, as he deflected attention away from his lacklustre label compilations The Aftermath and The Wash, which merely demonstrated how dramatically his A&R nous had slipped since his mentorship of Snoop Dogg and Eminem. Significantly, both those stalwart collaborators are featured here on what, if Dre's explanation on his Beats 1 Radio show The Pharmacy is to be believed, is his "grand finale", the valedictory conclusion to his career.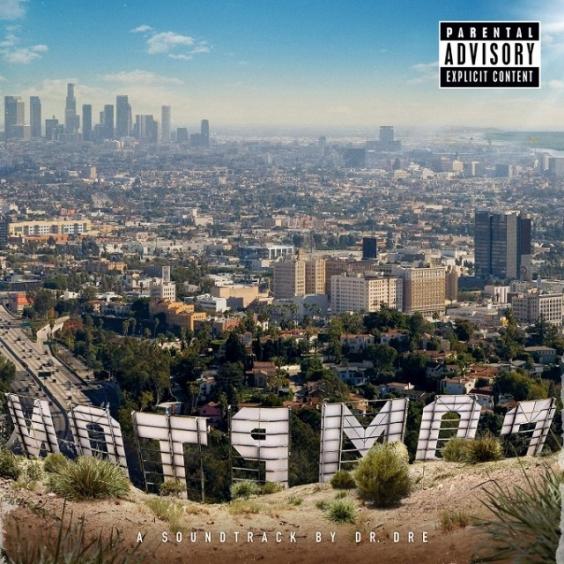 Not that I believe a word of it. There's simply too much happening on Compton, suggesting a renewed engagement with both production and frontline talent, for Dre to hang up his headphones just yet. The arrangements deftly bring together infectious, updated G-Funk grooves and meticulous found-sound narrative montages. Sometimes it's just for a single-weighted effect, as in "All In A Day's Work", where the backing falls briefly away to leave what sounds like the rattling chains of trudging prisoners, underscoring his complaint about how ingrained prejudice makes him feel like he's still on the frontline even when he's in a five-star hotel.
Sometimes, it's a more complex blending of elements: the Ice Cube-vehicle "Issues", for instance, somehow juggles heavy guitar riffing, waspish synth whine, montaged gunshots, cars and sirens, and an autotuned refrain about "this crazy town" behind the rapper's characteristically gruff declamation. Small wonder that Dre compares himself to a great painter in "Deep Water": when detractors criticise his work, he ponders whether they would critique Picasso's brushstrokes, too. 
Straight Outta Compton - who's playing who
Straight Outta Compton - who's playing who
1/5 Straight Outta Compton - who's playing who

Dr Dre played by Corey Hawkins

Universal

2/5 Straight Outta Compton - who's playing who

Eazy-E played by Jason Mitchell

Universal

3/5 Straight Outta Compton - who's playing who

Ice Cube played by O'Shea Jackson Jr

Universal

4/5 Straight Outta Compton - who's playing who

DJ Yella played by Neil Brown Jr

Universal

5/5 Straight Outta Compton - who's playing who

MC Ren played by Aldis Hodge

Universal
For once, the "Intro" opening a hip-hop album is justified, as its film-studio-ident fanfare leads into a voiceover explaining Compton's shift from bosky seaside suburb to "an extension of the black inner-city". It's all the preamble the project needs, as the album slips into a febrile combination of reminiscences, boasts and complaints that manages to keep an eye firmly on the present whilst gazing fondly back on former tribulations.
There's no denying the extra jolt of energy Eminem brings when he pops up to do his hyper-manic madman thing on "Medicine Man", and even Snoop Dogg sounds angrier than his usual genial, laid-back self on "One Shot One Kill". But perhaps the most positive aspect is the restoration of Dre's talent-spotting, not just through the drafting of Kendrick Lamar on tracks like "Genocide" and "Deep Water", but also the widespread involvement of youngsters like King Mez (Morris Ricks II), and the multi-talented black/Korean musician Anderson.Paak, most effectively with his reflective observations on ghetto life in "Animals". It's in this capacity, as shrewd mentor, that Dre's abilities are most needed in hip-hop's future.
Reuse content