The heavens bless London's hipster Christmas with perfect sunshine for its first year as a two-dayer, yet Sky Ferreira belts out her smart, shimmering pop from within a Gallagher-esque parka.
Blood Orange turns down the heat with his intense R&B slow jams with flashy, Princey guitar, before Neneh Cherry closes a set of dark, jazzy trip-hop with a tense, modernised version of 'Buffalo Stance' over on the Crack Magazine stage.
Back on the main stage, Warpaint's expansive, sexy, bassy grooves ring out as evening falls, ceding to Jon Hopkins's intense electronica. Closing the main stage are Metronomy, on the face of it unlikely headliners. 'The Look''s snappy, nervy clip and 'Reservoir''s dark broodings sound great, but it's a good thing they've also got 'Nights Out'-era bangers such as 'Holiday' and 'Radio Ladio'.
On Sunday, Aussie weirdoes Pond make a great start with an attempt at covering Michael Jackson's 'Earth Song', while Welsh boys Telegram do a niftier, wirier job of reviving psych than the pastichey Temples, on at the same time.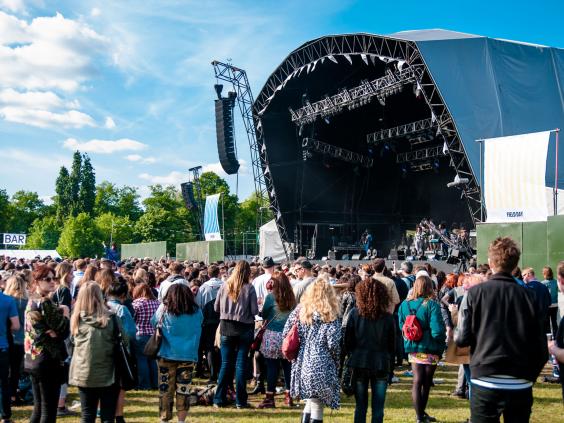 Drenge's tightly controlled grunge ire is a sharp contrast to The Horrors, who are blissfully chilled out these days. But it doesn't work in their favour, bar 'I See You', their new tracks just don't have the energy of yore. Future Islands, meanwhile, have energy to spare, haranguing the crowd to dance to their 80s-movie goth-synth-pop.
"It's the Pixies, playing Pixies songs," comments a friend as we await the arrival of Sunday's headliners. "What more could you want?" As they begin with 'Wave Of Mutilation', you see his point, but it's a show only those who've never seen the band can get the most out of now.
The new songs are passable rather than essential, Paz Lenchantin's backing vocals heavily underline the absence of Kim Deal, and it's only rarely, as on 'Something Against You', that Frank Black's scream hits full throttle and suggests his heart might be in it. Not to say that they're bad - it's just that the Pixies should be something more than serviceable.
Not that the hordes dancing away the last of the weekend to 'Here Comes Your Man' seem to care about such gripes, mind…
Reuse content