Goo Goo Dolls, Eventim Hammersmith Apollo, London, review: 'The first few chords of acoustic ballad 'Iris' got the crowd to their feet'
Goo Goo Dolls performed their latest album 'Boxes' which has a new softer, melodic approach to it, as well as old favourites
3
Click to follow
The Independent Culture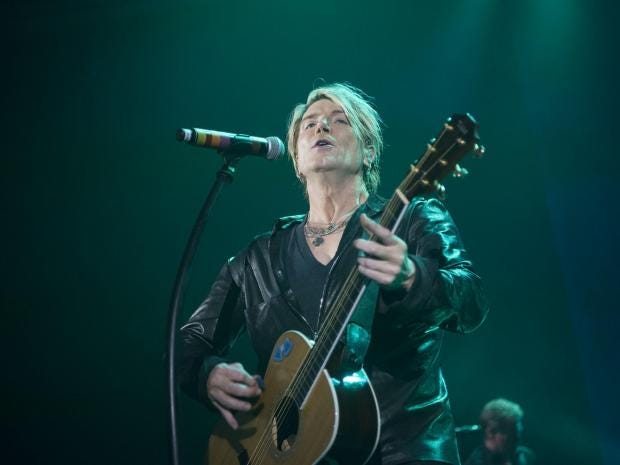 The multi-Platinum and Grammy-nominated Goo Goo Dolls pulled down the curtain on their UK tour with a performance that can be described as a pumped up, energetic sing-along at the Hammersmith Apollo in London. 
The six-date tour saw the New York natives play across the UK for the first time since 2013 to promote their 11th studio album, Boxes.
After opening the set with single "Over and Over", John Rzeznik and co set the precedent for the rest of the evening going into 1995's "Long Way Down" and chart-topping "Slide" early on. 
Despite being stripped back to Rzeznik and Robby Takac from the original line-up, the duo were joined by Brad Fernquist on guitar, Korel Tunador on keyboard and Craig Macintyre on drums, who it has to be said, didn't miss a beat.
"Here is Gone", from the album Gutterflower was followed by an emphatic performance of "Black Balloon", as a number of black balloons made their way amongst the crowd.
Rzeznik took to the mic once more to introduce "Name", as the first Goo Goo Dolls song to be played on the radio much to the elation of the London crowd. "So Alive", already one of the favourites from Boxes, provided another opportunity to get to know this new softer, melodic approach to rock that surrounds the new album.
"Come To Me", "The Pin" and "Stay With You" then followed before the first few chords of acoustic ballad "Iris" got the crowd to their feet, standing and cheering in anticipation of the moment they'd waited for. "Iris", which spent 18 consecutive weeks at No. 1 on Billboard's Hot 100 Airplay chart in the US and remains one of the biggest crossover hits in the history of popular music, expectedly, did not disappoint. Inviting the audience to sing with him, to which they obliged wholeheartedly, Rzeznik, used the opportunity to thank the crowd and send them home happy.
Much like the new album, the night managed to retain what their legions of fans love about them — indelible melodies combined with intimate, heartfelt lyrics, whilst still introducing a new, more uplifting, vibe within their work.
Reuse content
Comments