Green Man Festival, Glanusk Park, Wales, review: 'Always brings the unexpected'
Laura Marling, Belle and Sebastian and Warpaint captivated audiences who showed up rain or shine for the indie/folk weekender
4
Click to follow
The Independent Culture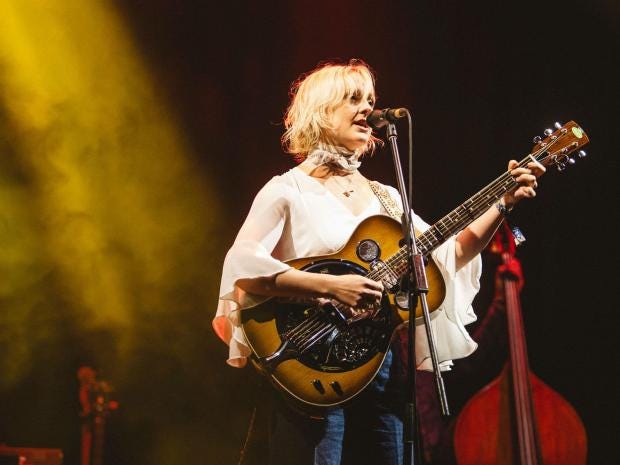 "It's gonna take a hurricane to stop this," Ryley Walker yells as a sudden gust blows the Chicago guitar maestro's spare 12-string off its stand. While the threatened severe winds bypass Green Man's bucolic valley setting, Walker's boast could have served as a motto for an indie/folk weekender sturdy enough to cope with dreary conditions.
Instead, an eclectic range of acts repaid close attention. Despite a sense organisers were reserving a little dry powder for next year's 15th anniversary, this festival still came deeply layered. Friday was dominated by dense musicality, with sax-wielding behemoth Kamasi Washington reshaping jazz for the hip hop age with funk and rock, while respecting the genre's roots.
Floating Points engrossed with a proggy take on constantly shifting electronica, while Texans White Denim twisted jam-band excursions. Perfect opportunity, then, for Welsh Rome resident Meilyr Jones to boss the main stage with his sophisticated art-pop swelled by bristling romanticism. On Saturday, Walker, a barfly Tim Buckley with visceral ragas, cut through the mizzle, before Cate Le Bon beguiled with stark post-punk riffs and homegrown ethereality.
Later, the big-top stage heaved to the fiercely direct grooves of beaming krautrock pioneer Michael Rother and Jagwar Ma's rave abandon. Sunday was no slouch either as Slow Club's Rebecca Taylor guested with feral analog-sludge merchants Moonlandingz before turning to her regular group's soulful belters.
Unknown Mortal Orchestra's Ruban Nielson climbed a gantry while delivering his passionate funk-rock, while Julia Holter beguiled simply with elegant chamber arrangements and mystique well-suited to the setting.
Los Angeles' Warpaint also found a ready audience for their smoother direction as the all-female group previewed new material. Of the headliners, James Blake was possibly the most minimal since Kanye and his ego at Glastonbury. Leading a trio, the Beyoncé collaborator proved a diffident host, especially when his crystalline reveries and fractured mantras struggled to command attention, though enough builds and releases ensured a successful first night close.
Saturday was graced by a quietly authoritative Laura Marling, who opened with a 10 minute multi-part number before exploring west-coast summery rock and outlaw country. The weekend was closed by Green Man debutantes Belle And Sebastian, led by a giddy Stuart Murdoch, celebrating 20 years with a career-encompassing set that ranged from early outsider anthems to recent eurodisco synth-pop.
Even as the Glaswegians rolled back the years, proceedings were halted by a mammoth stage invasion that overwhelmed the ensemble during "The Boy With The Arab Strap", filling it with a crowd mostly younger than the band themselves.
Green Man organisers may not wish to replicate that stunt in 2017, but the festival always brings the unexpected.
Comments