Justin Bieber, O2 Arena, London, review: 'London's O2 Arena is alight with Bieber fever'
Hysteria is in the air as the Canadian superstar begins the first of his six London shows
2
Click to follow
The Independent Culture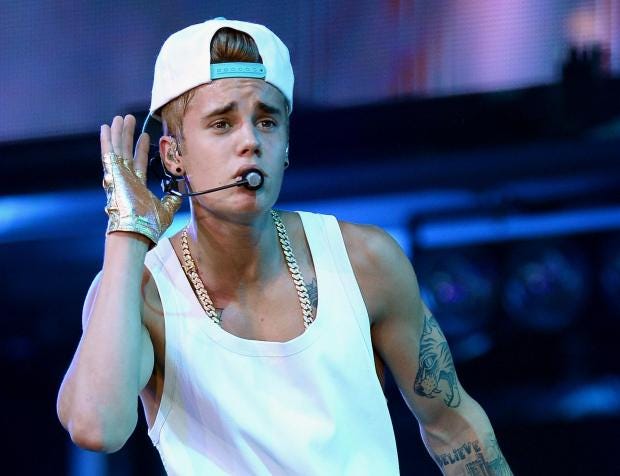 London's O2 Arena is alight with Bieber fever. Bespoke, magazine-style programmes, sold at £15 a pop, are being waved maniacally in the air. Someone's selfie stick is intercepted by a steward because it's blocking a fire exit. Meanwhile, a giant 3D animation of the Canadian superstar is falling from the sky, like some kind of religious prophet coming back down to Earth. Hysteria's in the air, and it's fitting for a sensation still riding high from 2015 album Purpose, a record made up of berserk pop bangers and just enough signature sentiment.  
What follows is a bizarre spectacle, a mix between the dazzling and the downright confusing. After a recent headline set at V Festival, Bieber was accused of overly relying on lip-syncing and lacking enthusiasm, his half-fussed dancing resembling someone being forced to bust moves at a funeral. That doesn't quite prove true on the first of six London shows. When tonight kicks in, like on the hyperactive "Where Are Ü Now", it's a dizzying mix of pyrotechnics, backflips and EDM-nodding madness. Other moments drag, like a five-minute section which sees Bieber performing drum solos on a 10-foot platform. He's clearly enjoying himself, beaming like a kid in a playground, but he's a long way from a role in a Whiplash sequel.  
For emotional juggernaut "Love Yourself", Bieber boldly opts to play acoustic guitar himself, sat on a plush red sofa. Sadly, he botches it, playing the wrong, oddly ominous chords for three straight minutes. His between-song chat needs work, too. Asking the audience what hairstyle he should opt for now, after shaving his head, he wonders: "Should I get corn rows? An afro?" At one point, he tells the O2 Arena's top row that "when Jesus comes back, you'll be the first to go." The joke goes over most people's heads.     
These oddities are pretty much ignored by those in attendance. Screams drown out the dodgy acoustic jams, even after Bieber's request for everyone to stay quiet during slower numbers. The foundations for a great pop show are there, too. Bieber has brilliant songs in his locker and the budget for a phenomenal display. And it's not that he doesn't seem fussed, or fed up with being famous. But for a night that promises to be spectacular - even sometimes reaching those highs - this is confusing mix of ambition and 'that'll do' nothingness. 
Reuse content
Comments