London Jazz Festival, Various Venues, London, review: David Bowie's track 'Lazarus' gets a transcendent jazz translation
Highlights include the New York saxophonist Donny McCaslin, who was Bowie's right-hand man on 'Blackstar', as well as The Robert Glasper Experiment and the Michael Wollny Trio
4
Click to follow
The Independent Culture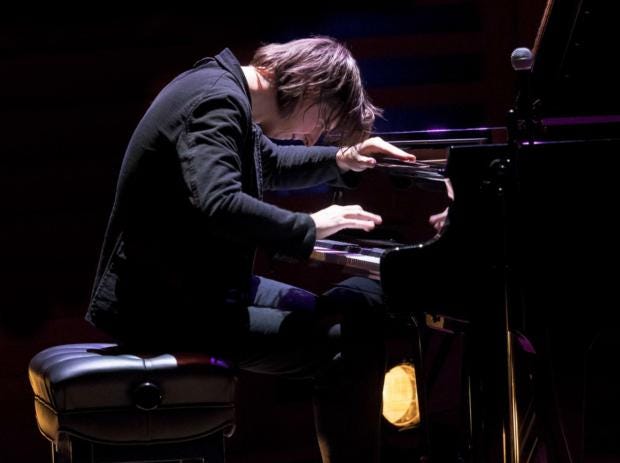 David Bowie's last handful of stardust fell on Donny McCaslin, who seems transfigured by it. The New York saxophonist was Bowie's right-hand man on Blackstar, and on Beyond Now, the new album comprising his writing and Bowie's, the pair's DNA has become entwined. Only bassist Tim Lefebvre is missing from the quartet that made both records for their gig at the Rich Mix club. The packed crowd press forward, thrilled by the music, but surely also aware this is as close as they will get to the Starman's final transmission.
Blackstar's key track, 'Lazarus', gets a transcendent jazz translation, Jason Lindner's keyboards gently sinuous and glistening in a song that's part requiem and part resurrection. McCaslin looks lit up with benign soulfulness, gratitude at Bowie's intervention, and a sense of mission to do it justice. "Being here – it's hard to talk about," he says, moved perhaps to tears, before closing with Low's 'Warszawa'. The original's melancholy, electronic Cold War winds now swirl redemptively as McCaslin, eyes squeezed shut, blows his heart out. The audience gets everything he's giving. This hasn't been a tribute to Bowie, but a personally delivered, last letter home.
Elsewhere in the London Jazz Festival's first days, you can almost see the latter-day barriers between jazz and a broad public breaking down, a process which has accelerated this year. The Robert Glasper Experiment have been crucial to this. Glasper likened the jazz reaction to his leap into hip-hop and R&B with 2012's Grammy-winning Black Radio to that of a "jealous ex", but his filling of Camden's Koko with a youthful mix of men and women, black and white, show the divorce wasn't final, and any settlement was in jazz's favour.
Glasper's penchant for languidly unfocused gigs is kept in check, and his own keyboard playing is sharp and thoughtful, quick phrases becoming claustrophobically trapped then making spidery runs. Lianne La Havas guests on a meditative cover of Little Dragon's "Twice", while on "Day to Day", Casey Benjamin's 10-minute soprano sax solo's relentless, building intensity is recognised and roared on by a crowd unlikely to have crossed the road to hear anything like it at Ronnie Scott's.
German pianist Michael Wollny, though 38 and a mainstream star back home, still seems a lanky, floppy-haired wunderkind on his trio's belated London debut. "Der Wanderer"'s inclusion of a wistful piano prelude and bull-snorting drum solo, and its long and jagged, deconstructed path back to the initial tune's pensive acceptance, is as typical as the unlikely, breakneck funk climax to Paul Hindemith's 1919 composition "In einer nacht".
Among other early highlights, Phillip Johnston's Silent Six provided dissonant marching music and ribald city symphonies for cartoonist Art Spiegelman's meditation on wordless novels, and James Blood Ulmer, the 76-year-old blues-jazz guitar colossus, revisited his 1980 album Are You Glad To Be In America? with gliding sighs and chopping force. The title's irony never needed less emphasis.
Reuse content
Comments