Never knowingly understated when it comes to his political views, Neil Young here trains both barrels on Big Agribusiness and lets the corporate suits have it in the most direct and unsophisticated manner, with songs about "fascist politicians and chemical giants walking arm-in-arm".
Even the gentle country stroller "Wolf Moon", with weary harmonica and warm-bowed bass evoking the day "rolling by with timeless grace", concludes with a reference to "thoughtless plundering". And when Young stomps on his effects pedal and lets rip in the Crazy Horse-style miasmic slouches of "Big Box" and "Monsanto Years" itself, there's a genuine anger to his fulminations against pesticides and poison tides, and how some businesses are "Too big to fail/Too rich for jail". In both songs, the crux of the matter is genetically modified seeds, and the refusal to let farmers to grow what they want to grow. "The seeds of life are not what they were," Young claims, extending his target to include a coffee chain in "A Rock Star Bucks A Coffee Shop", a lolloping folk-rocker featuring deceptively jaunty whistling.
He's accompanied on The Monsanto Years by Willie Nelson's sons Lukas and Micah, and Lukas's band Promise Of The Real, who seem like they're being trained as an apprentice Crazy Horse, bringing a rough and ready charm to the rolling grooves as Neil essays his solos, and chugging along like the Sir Douglas Quintet while he pays tribute to "Workin' Man".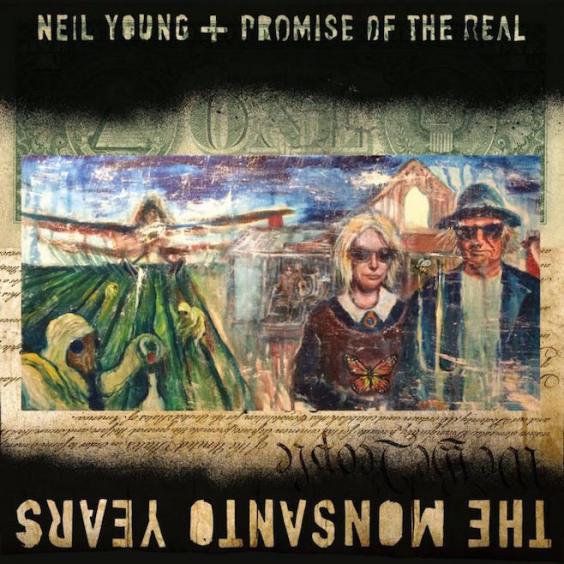 But as with Young's electric-car album Fork In The Road, his single-issue tendencies can grow wearisome after a few songs: a situation he acknowledges on "If I Don't Know" and "People Want To Hear About Love" – rather than "the corporations hijacking all your rights". It's a delicate path to tread, but Neil hopes he can get his message through "if the melodies are pretty, and the songs are not  too long". Which train, alas, long since left the station.
Reuse content