Though less sprawling and diverse than 22 Dreams and Wake Up the Nation, Saturns Pattern is just as exploratory, albeit within a more constrained setting, based tightly around Paul Weller's core band.
That still affords plenty of room to manoeuvre, as "White Sky" proves. Coasting in on a swirl of ambient noise and backwards guitar, it suddenly acquires thunderous drums, burly bassline and snarling guitars, along with an extraordinary, distorted vocal: it's more akin to a Jack White blast than Weller, although it's uncertain to what extent that's down to mixing duo Amorphous Androgynous, as they're not involved elsewhere.
Things settle down a little thereafter, with more stolid song structures treated to subtle psychedelic embellishments: the prancing piano of the title-track is adorned with effect-strewn eddies of harmonica and keyboards, while ricocheting guitar effects and reverb expand the modest vibrato groove of "I'm Where I Should Be".
Both tracks are positive expressions of progress, Weller advocating in "Saturns Pattern" that one should "Get up with a mind to get up, the time is all yours." Likewise, the lightness in the psychedelic-soul celebration "Phoenix" suggests the title refers to the myth rather than the city.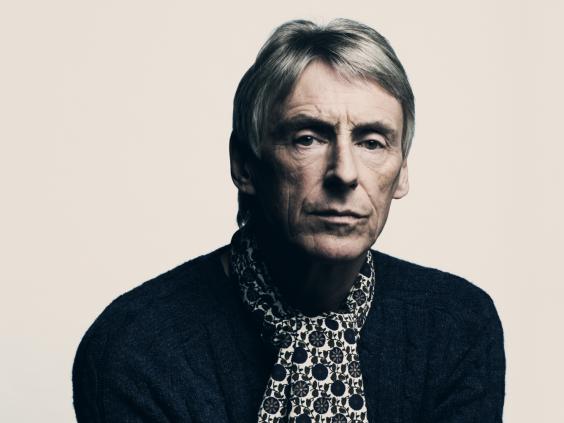 Weller's magpie tendencies pay dividends: "In the Car" transforms from country-blues to glam-rock stomp, "These City Streets" adopts the psychedelic folk-rock textures of early Jefferson Airplane and Love's Forever Changes, "Long Time" sounds like the Velvets discovering the blues, and the brooding organ and itchy guitar of "Pick It Up" recall "Season of the Witch".
A whole lotta guitarists: Legends photographed by Jimmy Page's daughter
A whole lotta guitarists: Legends photographed by Jimmy Page's daughter
1/12 Steve Jones

In LA, it was all addresses in the Hollywood Hills. Steve Jones had a great Steve Jones-esque pad. We got there a bit early so we were loitering down the road, and we saw him pull up on his motorbike; he rides quite a lot in the hills. We went in and it was a one-level man-pad, there was definitely no strong presence of him sharing it with somebody else, but it was just brilliant – loads of stuff everywhere, a little pool outside, and exactly how you'd imagine his house to be. The shot of him is against his front door from the inside. His email manner was classic, as well. He was very to the point. It's such a larger-than-life full-of-character shot, but he said, "I look like a muppet", which I don't agree with.

2/12 Noel Gallagher

That was at his house in the countryside, Amersham way, Buckinghamshire. His Mrs is an interior decorator and she had lots of 1970s mirrored furniture, the stuff that we might have had in our living room. Probably the worst thing you can do is take a photograph against a mirror, but that's what we did there. Noel is brilliant. He's very good value, entertaining and clever. He was telling me about how Simon Cowell had asked him to be a judge on X Factor and as much as I knew he would never say "yes" to that, I thought he would be amazing because he's so sharp. We had a long chat and took a few snaps. Sometimes when you go to [rock stars'] houses you don't want it to look too much like "at home with Noel Gallagher", so it's still trying to make it look cool and not too relaxed.

3/12 Jimmy Page

It was really weird taking this picture; it felt like a test. Obviously I see my dad as Dad and nothing more really, so I don't want him to look too soft, and I don't want him to put on a front; ultimately I have to make him look like Jimmy Page and not my dad. I was really pleased, because this image was somewhere in between: quite intimate, but not soft. He was patient. He's been so busy recently because they've reissued the old Led Zeppelin albums, and really delved into all the archives of photographs and anything everyone who's interested would be interested in, so it was quite hard to schedule in time. I left him to the end.

4/12 Paul McCartney

This was all self-funded and I don't have lots of money rolling around so I said, "I'd love to go to LA, but only if I get at least four people", and I ended up getting eight in a week – and Paul McCartney was the first. It was all based around the time that Paul McCartney could fit it in. It was sprung on me at the last minute when I was there. Paul was filming a Jimmy Kimmel Live! appearance and playing. It was just a case of grabbing him in his TV make-up. He said, "did you come over especially to do this?" and started strumming on his guitar and singing a song, "all the way from London..." It was all a bit surreal. But I was aware I had to take the pictures quickly. I got less than 10 frames of Paul McCartney and it was just by chance that I got a corker.

5/12 Justin Hawkins

I was on tour with The Darkness the year before they broke up. It started all going crazy in that year leading up to it; they were falling apart a bit. Justin is one of the best people I've ever photographed. He's just the opposite of vain, and very entertaining. It's so refreshing. At the time there was a documentary being made which never came to fruition. It was Spinal Tap at every turn. They knew what they were doing, but it was ridiculous and hilarious. I love that picture, I took it before I started the Resonators project and used it as a reference for how I wanted the pictures to be. I love the colours in it, I love the way he looks, I love everything about it.

6/12 John Frusciante

Where we did the shoot was John Frusciante's house at one point. Now it's more like his studio and workplace. He's the most absorbed by music; he lives and breathes it. The whole space was full of every single vinyl of every single genre of music you could imagine it. It was a house full of music and dedicated to making music and listening to music. He's got a lot of Captain Beefheart artwork all over the walls. He made us listen to his new projects – he's doing R&B hip-hop stuff which is so different to Red Hot Chili Peppers. He told us when we got there that he'd been analysing the binary code of music and sound. He's like a mad professor of music.

7/12 Wilko Johnson

He was brilliant. He was the first one I shot, a year ago in March, and he had recently been diagnosed with cancer. I didn't want to go to him if he was poorly and I knew he was well and doing a lot of stuff. He's had the most amazing year – he was given six months back when I met him and shot him. He struck me as being so intelligent, such a character, mad but just amazing, that you'd want to listen to him all day. He was talking to me about the first guitar he got. I came away thinking that he was the most brilliant man I've ever met in my life, and really inspiring.

8/12 Johnny Marr

I was a huge Smiths fan. Back then I loved The Smiths and Depeche Mode. He was one of the last ones that I shot. When I was taking pictures of Johnny Marr I could have chatted to him for ages, he was so interesting and passionate. We chatted a lot about Smiths things. Some of these people really strike you – you know why they're so brilliant at what they do. They just live and breathe it. I didn't know he called his son Nile because he loves Nile Rodgers. Since knowing that, I thought how I can hear the influences. He was playing that night with Nile Rodgers at the Brits aftershow party.

9/12 Kelly Jones

I started working with the Stereophonics when their first album was out and they were so much fun, really loud sweary Welsh boys; I used to go on the road to do editorials for Kerrang! magazine. I've been to lots of tiny venues, taken tour-bus photographs, all very fly-on-the-wall, and I did the cover for their second album, Performance and Cocktails, which is an image of a couple kissing – it's quite a well-known shot. I haven't worked with them for seven years so it was really nice to see Kelly again. They're a brilliant bunch, very down-to-earth. Kelly has his studio in west London and the shot was taken there.

10/12 Peter Green

The hardest to get in contact with, and the one I felt quite sensitive about, was Peter Green. When I was looking at who would be these top guitarists for Resonators, Peter Green was definitely one of them and it almost became a challenge to try to do my best. But it's not like he has an agent, manager or press office so it was quite challenging. Eventually, when he agreed, because I know it's not something he does willy-nilly and I don't think he plays that much any more either, I did feel honoured and then I was sensitive to not putting him through torture. Because for some people being photographed is a bit like stealing their soul; I hate having my photograph taken. With all the history that he has – he became a recluse and left it all behind – he actually looks quite powerful in the picture.

11/12 Paul Weller

I shot him when he was doing a show for the Teenage Cancer Trust at the Royal Albert Hall and he was a proper gentleman, a silver fox. He was asking questions about my dad, he obviously knows my dad. He was really lovely and later on, after the shot, just before he went on stage his twin toddlers arrived and I thought, "how does he do this and stay so calm?". He's such a legend and he looks great.

12/12 Jeff Beck

He's a very close friend of my dad. In the 1970s, my mum used to have a birthday party every year. People from Free, Bad Company and Jeff Beck would come and I used to be behind the bar aged nine serving drinks. I liked to get involved and there were some that would sit next to the bar most the night, but not Jeff Beck actually. Then they'd all jam. When I got in contact with him I said, "you might remember me". He said, "of course I remember you!". But when I last saw him I was 10, so I didn't want to be too presumptuous. My dad told me Jeff Beck never really smiles in pictures, and that it's nice to see him looking relaxed. I think there was definitely a huge element of trust – that probably did do me some favours, and whether that just made people feel a bit more relaxed I don't know.
But the track which most displays Weller's protean instincts is surely the lovely "Going My Way", which starts as a piano ballad in Dennis Wilson style, then darts off to explore mellotronic pastoralism, jaunty piano and close-harmonies, as if tugged away by Dennis's brother Brian.
Reuse content