Pharrell Williams proved himself an unlikely feminist at tonight's O2 gig, a relatively intimate affair attended by 600 guests of MasterCard.
"In America, women are paid seven cents to every dollar, this is the year everything changes," he said. "You guys are going to have to start voting different, when you see a woman naked don't tear her down - it's about where she's coming from in her mind let's give women the equality they deserve."
This of course would have been admirable had he not collaborated with Robin Thicke on last summer's controversial "Blurred Lines", in which lyrics include the demure, "I'll give you something big enough to rip your ass in two."
He admitted, mid-concert, to his bemused audience that he had in got it "wrong" in the past, but frankly they didn't care. Regardless of whether his newfound feminist plight sat well or not, they wanted to see Pharrell do what he does best - which is deliver pop songs sprinkled with the Midas touch. Hopefully while wearing some statement headwear.
And he surpassed this objective, singing his extensive back catalogue from N.E.R.D's "She Likes To Move" to "Happy" and "Get Lucky". His excitement and appreciation for being in his mighty position is palatable and infectious - you'd have to have a broken leg not to want to dance to at least one of his tracks. At one point, he invited a young girl, aged six or under to join him on stage - she, looking unprepared for the task, was no match for enthusiasm and stood awkwardly as he danced around her.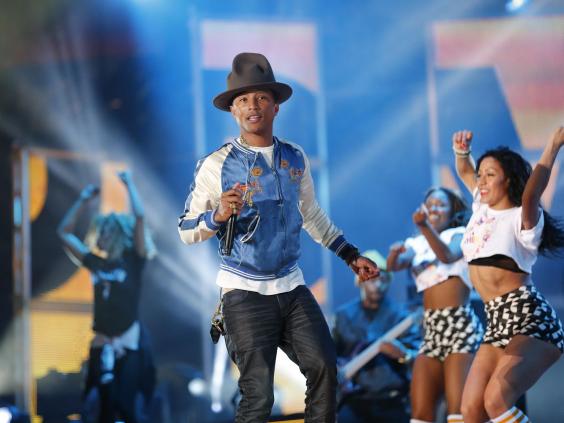 Considering the overtly sexual nature of most of his hits, Pharrell is strangely enigmatic. His dance moves are never sleazy or predatory, steering adeptly past Robin Thicke territory, he just looks as of he's having a genuinely great time with his lithe backing dancers - although this, albeit infrequently, came at a price of strong vocals. He's smooth, but never forced. While he treads the cheesy line, he manages to swerve it.
Adding to his famed genre-blending medley of hits (and there are far more than you'd think), he also sang covers of Gwen Stefani's "Hollaback Girl", Nelly's "It's Getting Hot In Here" and Snoop Dogg/Lion's "Drop It Like It's Hot" - which, by that point, it really was.
It's impossible not to be slightly enchanted by Pharrell's charm; he's irresistibly uplifting, his music unthreateningly hedonistic. He makes creating pop look as easy as getting on the bus. To be in such a close setting with the producer and musician felt like the best kind of party, but whether not his voice will stand the test vast space of Hyde Park at Wireless festival this summer remains to be seen.