"There are better bands after us, I promise you," quipped Dougie Poynter, the McBusted bassist with the winning smile and a party piece which had him climb on the back of fellow bassist Matt Willis and playing the same instrument.
The merger between McFly and Busted has proved surprisingly successful, even if their catchiest tune remains the hypnotic McFly hit ''Shine A Light'', reprised by the good natured, cross-generational crowd gathered for this pop fest on the sole balmy evening of the three-day event held on the Hampshire sea front.
Jet black-haired Canadian sensation Carly Rae Jepsen opened the proceedings with the electro songs – ''Run Away With Me'', ''Gimmie Love'' – that have caught the imagination of her young teenage fan base and built on the winning formula of the irresistible ''Call Me Maybe'' as the evening turned into a contest for the act with the most chart entries and the best way to present them.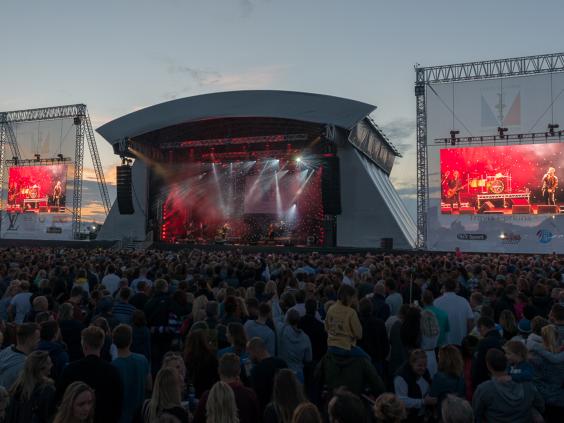 Kicking off with their soulful 1987 debut single ''Wishing I Was Lucky'' and the Motown-flavoured ''Sweet Little Mystery'', showcasing their punchy horn section, Wet Wet Wet reminded the hipsters that they were always closer to the alternative pop of Dexy's Midnight Runners and Orange Juice than the mainstream vagaries of Take That and Boyzone.
A born vocal show-off, their easy on the eye frontman Marti Pellow went walkies through the crowd during the shimmering ''Sweet Surrender'', setting off enough selfies to help reroute a sailboat, and turned the wonder ballad ''Goodnight Girl'' into another memorable singalong involving his not so reluctant band mates as well as the audience who belted out the inevitable closer ''Love Is All Around''.
Packing nine surefire classics into a bijou 50 minutes came as second nature to the experienced Wet Wet Wet, whose last UK appearance this was until their eagerly-awaited headline tour of February 2016.
Noniinal headliners Spandau Ballet started disjointedly with ''Soul Boys Of The Western World'' and didn't quite engage and pick up momentum until they reverted to their Bliz synthpop selves with ''To Cut A Long Story Short''. Mind you, they did make the most of their secret weapon, the multi-instrumentalist Steve Norman, who blew a blistering saxophone through ''Lifeline'' as they channelled Roxy Music before big-voiced Tony Hadley sent everyone home happy with the evergreen ''True'' and ''Gold''.
As a cross-section and cross-selection of the last 35 years of commercial pop, this occasionally sugary concoction was hard to beat.