On a dark, dark night in which those pockets of southern England not in danger of slipping silently into the sea were bracing themselves for the headache of a tube strike, it was left to a 55-year-old from Minnesota to provide a distraction. A series of cryptic tweets dating back to August hinted at plans of Prince's return to England, cultivating hungry rumours of an extensive tour and a possible Glastonbury headline slot.
Last night, days after a curiously worded and disconcertingly ambiguous press release confirming plans for a new record with all-female backing band 3RDEYEGIRL and a run of shows at "iconic venues in and around London", the multi-instrumentalist brought the Prince circus to sodden London.
Was it a soundcheck? Was it a gig? Matter not, it was Prince, alive and very much kicking in a tidy black sleeveless ensemble, a black guitar slung over his shoulder.
Those who still had a fully working "refresh" button on their computers, tablets and smartphones after 48 hours of "is Prince in London, and if so where?" were informed of the impromptu performance at the historic Camden Electric Ballroom via Twitter at around 10pm. Fans waiting patiently outside were doing so more in hope than expectation. A nod and a smile when tentative inquiries were made to door staff about the night's mystery performer was all the validation the throngs of giddy punters needed to stay out just a bit longer.
A little over two hours after the concert was tentatively mooted, the doors opened. Much like an old end-of-term variety show, the band started playing the moment the first saturated canvas shoes pounded towards the stage. A down-tempo rendition of "I Could Never Take The Place Of Your Man", from 1987's Sign O' The Times, greeted most of the stampede, estimated to number anywhere between 75 and 250 (a decent proportion of those were there to instruct the rest not to take pictures). Either way, those inside the 1,000-capacity venue rattled.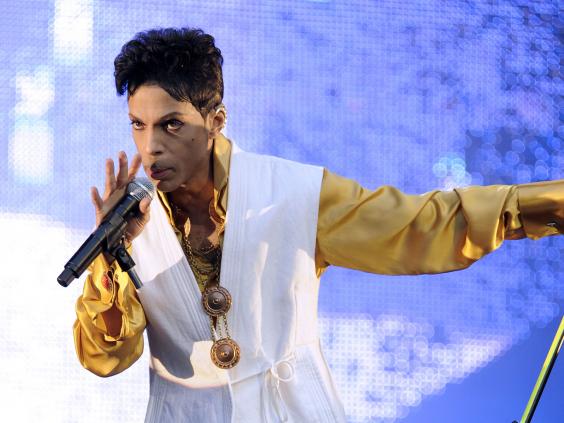 "You sound like ten thousand," Prince said. An odd comment, considering the set was heavy with new music nobody seemed to know the words to. Or didn't until Prince conducted the hypnotised ensemble into hollering a few stanzas back at him anyway.
Standing behind a microphone stand decorated with his "love symbol" insignia, Prince stormed his way through a 30-minute set, and a cover of Wild Cherry's classic "Play That Funky Music", which saw him swap his guitar for a slap bass and then back again. New material - including "Plectrum Electrum" - unintroduced and segued seamlessly into meandering instrumentals, was delivered with gusto and a solo-picked-from-behind-the-neck courtesy of 3RDEYEGIRL guitarist Donna Grantis. Through showmanship or sheer musical talent, the fresh cuts did not derail the show.
Beaming throughout, the performers darted off stage only to return and milk the applause. "We'll be back tomorrow," Prince said. And then they were gone, this time for good.
If it was a gig, few could have felt short-changed despite its brevity. The doors were opened, free of charge, to all committed enough to brave conditions both meteorological and union-made. "It's just a soundcheck," a couple muttered. Fine. But it was as professional and captivating a run-through as the Electric Ballroom has surely seen in years.
The purple reign continues.
Reuse content