A resounding, bitter corrective to the pleasureland fantasies of modern R&B pop and the empty braggadocio of hip-hop clichés, Key Markets may be one of the year's emblematic albums.
I'm reminded of Thatcher's Loadsamoney Eighties, when new romantic foppery disguised the harshness of dead-end, dole-queue Britain – a parallel that Sleaford Mods' Jason Williamson and Andrew Fearn won't allow to resurface without due protest. The latter's backing tracks are minimal and unornamented, little more than a pounding bassline lashed to a pulsing beat, lending a propulsive momentum to Williamson's verbals that drives home the tidal wave of disgust.
Williamson is a ranter driven by sheer splenetic rage, filtered through a sensibility that cuts the contempt with a hard, merciless humour. The results are scalding excoriations of modern life and its iconic figures, from Boris Johnson wielding a brick at a Tory conference, to "fine cheese made by that tool from Blur".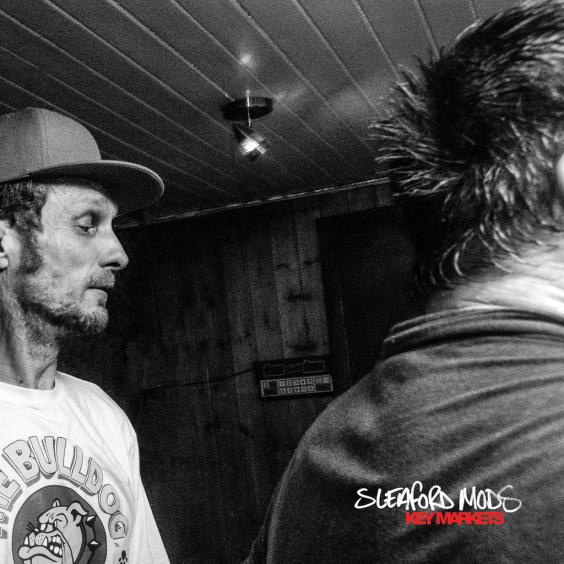 He can be laugh-out-loud funny, as when razoring a Nottingham rock'n'roller's rebel pretentions – "You live in Carlton, you twat/ You're not Snake fucking Plissken!" – and he can be more subtly humorous, too. "Alienation? No one's bothered!" he blurts at one point, a rather witty joke.
But the humour is simply a sweet veneer to enable his harsher truths to hit home, whether it's his denigration of the bourgeoisie in "Bronx in a Six" ("All you chinny wine-tasters die in boxes like the rest of us wasters") or the nihilist extremity with which he parses Marx in "Face to Faces": "This is the nature of everything alive/ Kill yourself trying to crawl out your dive/ Everyone spits at you, even your wife".
"Giddy on the Ciggies", whose scuttling metallic groove carries perhaps the album's most depressing sermon: "I know people care/ We all fucking care/ But care don't dare, it don't even scratch the surface". Care? Not in this community.
Reuse content