This show from Detroit indie singer-songwriter turned mainstream crossover success Sufjan Stevens conjures memories, if any may have attended both events, of Leonard Cohen's enforced return from touring retirement on this side of the Atlantic at Manchester Opera House in 2008. The similarities were many.
Both brought artists whose huge reputation and fame preceded them to Europe for the first time in a long time, with expectation levels to match (although Stevens had played two nights in Dublin preceding this show); both were conducted in a sit-down arena, with the attendant air of quiet reserve and mature formality; and both were populated, you felt in the air, with a particularly loyal brand of fan for whom each show wasn't just a night out, but a pilgrimage.
In Stevens' case, what has made him so compelling to so many is last year's seventh album Carrie & Lowell, a sparse and deeply personal record populated by the organic indie-folk with which he started his career, and which tells with often heart-breaking honesty of the life and death of Stevens' mother Carrie. Also a commercial success was Carrie & Lowell's predecessor, 2010's more electronically-composed The Age of Adz; it was both of these records which comprised the bulk of the set here.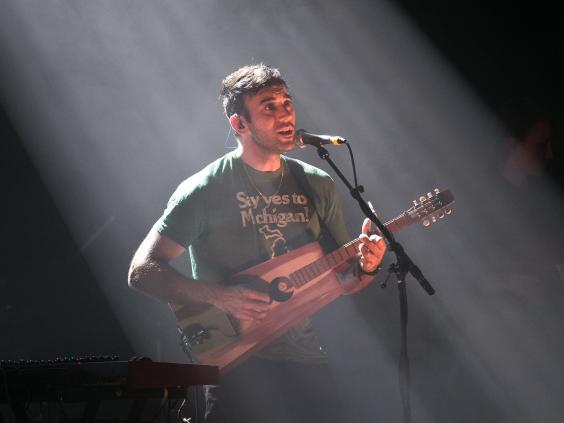 With saturnine red lights bathing the crowd and creating an otherworldly tone, Stevens and his band started with 'Redford (For Yia-Yia & Pappou)', a soft, soul-buffeting quasi-instrumental designed for the coo of wordless vocals, a suitably transporting introduction for a distinctive and stylised set. With home videos from his youth playing on the shards of video screen in the background, Stevens continued on his own with the whispering guitar strum of 'Death With Dignity', the tone of forlorn resignation in his voice palpable as he breathes out the line "you'll never see us again" repeatedly.
What follows is essentially Carrie & Lowell, played out of the order in which it was recorded, but maintaining the air of funereal reflection upon mortality. It was fitting that this concert was taking place as part of the closing stages of the Edinburgh International Festival; a forum more used to major classical concerts, Stevens' set is performed and responded to as such, with no communication from any of the performers, hardly a peep from the audience, and hisses of annoyance when phones are drawn to take a photograph.
The lighting and the film footage of striking landscapes which could be Paradise reveal an experience utterly in control of its own stunning visual and sonic aesthetic, although Stevens' soft but expressive voice feels occasionally smaller than, say, the haunting electronic finale of 'Drawn to the Blood' or 'Fourth of July's almost singalong "we're all gonna die" coda. Then the tone shifts decisively with Stevens performing a dance of hand actions to the electronic 'Vesuvius', and he's chatting away to the crowd during an encore of older favourites like 'John Wayne Gacy Jr' and a stopped-for-laughter 'The Dress Looks Nice On You'. It's a tonal shift which surely satisfied fans of every era of his career.
Reuse content